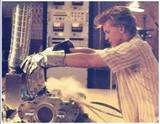 MIT v. Abacus Software (Fed. Cir. 2006).
MIT's patent covers a system for producing color copies. Prior to expiration of the patent, the educational behemoth sued several hundred accused infringers. Most of the cases settled, but four parties continued to fight the patent.
After claim construction, the parties stipulated to a judgment of non-infringement. The first half of the appeal focused on when non-explicit claim language can be deemed "means-plus-function."
But first, the 2–1 majority began their opinion with an announcement that the appellate court should only decide claim construction issues that served as the basis of the noninfringement judgment — and not any other claim construction issue. In addition, the appellate panel had some trouble with the construction because there was no information in the record regarding the accused devices.
Even with respect to the claim construction issues on which the judgment is based we perceive a problem with the mechanism by which this case has been litigated. As in Lava Trading, the record does not disclose the nature of the accused devices, and our rulings on claim construction in this case unfortunately must be made without knowledge of the accused devices.
On with the construction where the court searched for meaning of the claims as they would have been interpreted when the patent application was filed back in 1982.
Scanner: Based on a 1982 dictionary definitions, the court agreed that a scanner must have a moving element doing the scanning. Thus, although television cameras can do the same job as a scanner, they are not scanners. (The specification also distinguishes from cameras). Similarly, the court found that a 1982 scanner requires that the scanned specimen must be placed in close proximity to the scanner.
Colorant Selection Mechanism: At MIT's suggestion, the lower court held the term "colorant selection mechanism" should be interpreted as a means-plus-function claim even though it lacked the keyword "means."
[A] limitation lacking the term "means" may overcome the presumption against means-plus-function treatment if it is shown that the claim term fails to recite sufficiently definite structure or else recites function without reciting sufficient structure for performing that function.
The panel agreed that terms such as "mechanism," "means," "element," and "device" "typically do not connote definite structure." A typographical error in dependent claim 3 sealed the deal. In that claim, the patent refers to "said colorant selection means" even though only the mechanism had been introduced.
Aesthetic Correction Circuitry: Unlike a mechanism, the CAFC found that "circuitry" provided sufficient structure to avoid means-plus-function interpretation.
Chief Judge Michel Dissented and would have found "circuitry" to imply means-plus-function.
Note: There is more to this case that may be discussed in a later post.