Over 1,000 false marking lawsuits have been filed in the past two years. The flash of opportunism was triggered by recent court rulings that the statutory-authorized $500 fine per offence could be calculated on a per-article basis. Thus, the false-marking of one million paper cups could result in a maximum $500 million fine. The false marking statute – 35 USC 292 – sets a maximum fine but does not set a minimum. Thus, it is also possible for a court to set the fine at well under a penny per offense.
Although most of the lawsuits are still pending, about 180 settlements have been reached. Justin Gray of GrayOnClaims and the Foley firm has been tracking these settlements through the use of FOIA requests and has made the settlement information public. Although patent settlements are not usually publicly available, false marking settlements become public because of the punitive fine received by the US government.
Of the settlements reported thus far, the average value is $53,404 and median is $40,000. This takes the total settlement value to just under $10 million. The lowest settlement has been $500 and the largest $350,000. Of course, it may well be that the largest potential settlements are still pending.
As the chart shows below, settlements have been on the rise over the past few months.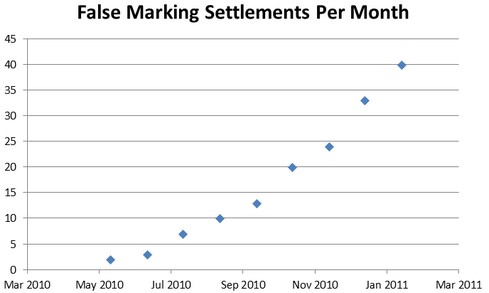 A few plaintiffs dominate the settlements. The top-five settlement plaintiffs are associated with over half of all settlements and settlement value. Patent Group LLC has settled the most cases thus far (37) while Promote Innovation LLC has the most revenue ($899,000). Patent Group LLC self identifies only as a Texas limited liability corporation represented by Ken Good of Tyler Texas. Promote Innovation LLC is also a Texas LLC represented by the Antonelli firm of Houston (former Weil Gotshal attorneys).
I pulled up the docket for Promote Innovation's case against Roche. The complaint alleges that Roche falsely has continued to mark its ACCU-CHEK diabetes monitoring kits as covered by patents that were held unenforceable due to inequitable conduct back in 2005. See Roche Diagnostics Corp. v. Apex Biotechnology Corp, 374 F. Supp. 2d 673 (S.D.Ind 2005) (holding the patent and is progeny unenforceable).