The new prioritized examination system known as "Track One" will begin on May 4, 2011. For a $4,000 fee, the USPTO will prioritize the handling of your patent application with a goal of reaching a final disposition within twelve months. A prioritized application is "accorded special status and placed on the examiner's special docket throughout its entire course of prosecution before the examiner until a final disposition is reached." Here, of course, "final disposition" means that the application is either allowed, abandoned, or is subject to a "final rejection" (which can then be appealed).
Qualification criteria:
Application must be filed on or after May 4, 2011 using the the USPTO's electronic filing system;
Application must be "complete;"
The request for prioritized application must be filed with the application itself;
Application may contain no more than four independent and thirty total claims; and
The $4,000 fee must be paid in addition to the normal filing fees. Without congressional legislation, the USPTO asserts that it cannot offer a small-entity discount.
Due to resource constraints, the PTO is limiting the track one initiative to 10,000 applications for the May-Sept 2011 period (the remainder of FY 2011).
The $4,000 fee was set after the USPTO estimated the average cost to the Office of performing the service. Of course, we live in a market economy where higher prices tend to lower demand. In thinking about the potential demand for expedited examination, I surveyed Patently-O readers who handled some aspects of patent prosecution and filing decisions and asked them what percent of their applications they would expedite based upon a $4,000 fee. (That time, I used software to largely eliminate the potential for multiple-voting.) The following histogram shows that the bulk of responses would expedite fewer than 5% of their cases. More than half indicated they would expedite less than 2% of their cases.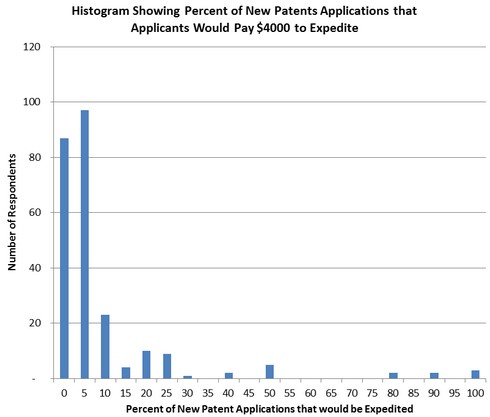 The EPC offers the PACE program that allows applicants a cost-free acceleration of processing. In that system, fewer than 5% of applicants request accelerated examination. As one response indicated, many applicants are "generally happy to wait for a patent to issue. 'Patent Pending' status is good for marketing, implies new product development. The market we are in is not one where patent speed is important."
Documents: