By Allen Wan. Mr. Wan is a 3L at Northwestern University School of Law. Prior to law school, Wan was a patent litigation analyst at Weil, Gotshal & Manges and Fish & Richardson. I asked Wan to provide some insight on the set of 1000+ patents that Google recently purchased from IBM. He wrote this piece just as news broke regarding Google's acquisition of Motorola Mobility – DC
* * *
A wise man once said, "Don't bring a knife to a gunfight." Well, it looks like Google has been doing some shopping at the armory and it's ready to make some apple sauce at the local range.
The recently recorded assignment of 1029 patents from IBM to Google – which more than doubles the number of U.S. patents assigned to Google – has been widely viewed as an attempt by Google to bolster its patent portfolio for a potential patent war among the technology giants. A closer examination of the patents confirms this view.
A review of the patents suggests that they were carefully chosen from among IBM's tens of thousands of patents in order to be most effective in a patent fight against the other technology giants. The broad topic coverage of the patents substantially enhances Google's position against all of its potential foes. Nonetheless, the patents appear to have been chosen for one adversary in particular – Apple.
There are several characteristics of these patents that each suggest a defensive intent by Google, and together as a whole, they paint a very clear picture of what Google is trying to do. The one that stands out initially is the unusually broad topics that are covered. A quick look through the patents shows that there is no one area of focus. These patents were not merely all of the IBM patents pertaining to a particular subject matter, but instead cover huge swaths of modern technology. Additionally, this breadth is not random. The topics covered are not indicative of a random subset of IBM patents. There appears to be a tilt towards consumer and network applications and an absence of patents pertaining to the record breaking supercomputers that IBM is known for. (e.g. Watson)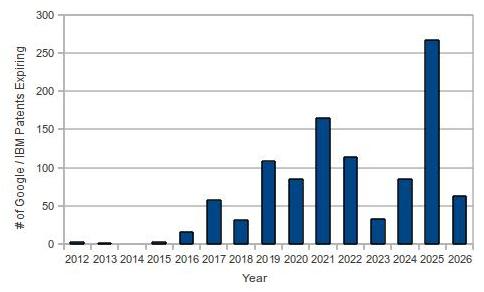 The remaining terms of the patents are also indicative of a careful selection process. There appears to have been a concerted effort to choose patents with substantial life remaining in order to provide long term protection. The earliest expiration date is in late 2012 (U.S. Pat. 5,751,286) and the average patent term ends in July of 2022. The patent term distribution is actually skewed towards the longer terms with a quarter of the set expiring in 2025.
The preference for long term patents does not appear to have come at the expense of quality. Generally, the patents appear to be strong, covering topics that would be difficult to work around, and having priority dates that are at least sufficiently early so as not to be obviously invalid.
These generalized characteristics can suggest an intent on the part of Google, but the most telling aspect is the patents themselves. I estimate that three quarters could be asserted against an Apple product. All major Apple products are targeted. Moreover, the potential accused aspects are sufficiently innate to the various products that it would be challenging to design around the patents.
These patents also provide effective protection against the other technology giants. Around a quarter could be asserted against any one of the other large technology companies – offering 250+ relevant patents that available for counterclaims and countersuits. These patents provide much better protection than the existing 700 native patents that Google has, which are mostly focused on Google's search business and largely inapplicable against anyone other than Yahoo and Bing.
A significant minority of the patents pertain to IC design, structure and manufacturing. It is unsurprising that IBM would have many of these available, and the ones dealing with IC design and structure could potentially be used against any IC manufactured with a modern IC manufacturing process or containing modern design elements. The IC manufacturing patents, in contrast, seem like they would have to be asserted against an actual IC manufacturer such as Intel or Samsung. These are notable only because it suggests that some patents were chosen to specifically target companies other than Apple. In contrast, the coverage against companies like Microsoft appears to be more a result of the sheer breadth of what is covered while the coverage against Intel appears to have been a directed effort.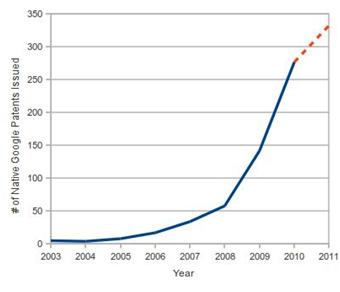 What is clear through this acquisition is that Google has ended its previous unilateral patent disarmament policy. Although, Google had previously shied away from building a patent arsenal, receiving orders of magnitude fewer patents than other large technology companies, it has apparently decided to abandon this policy and build a patent portfolio of its own. The number of new patents that Google is receiving each year is increasing at an exponential rate. This rapidly increasing number of native Google patents, combined with the large number of relevant technology patents that Google is acquiring from other companies, together provide a formidable arsenal for Google in this modern era of litigiousness among the technology giants. With Google's recently announced acquisition of Motorola Mobility, the potential patent duel with Apple has now inched closer. Motorola is actively engaged in several patent suits with Apple.
N.B.: Just because a patent can be asserted against a company or product does not imply that the patent is infringed by the company. Determining infringement is a complicated legal process which depends on a myriad of facts that can only be uncovered during discovery, is subject to the vagaries of claim construction, and is a question of fact ultimately answered by the jury. My use of the language that a patent could be asserted against a product should not be taken to mean anything more than it is my opinion that a suit alleging infringement of the patent against the product would likely survive a Rule 11 challenge for being frivolous.