[Updated August 09, 2011 with data from all utility applications filed in ]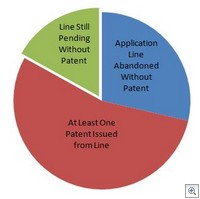 I created a dataset of all 22,000 published patent applications that were filed in February 2006 (5 1/2 years ago). Of those applications, about 54% have resulted in at least one patent being issued (either in original form or as a continuation or divisional); 29% are finally abandoned and have no pending child applications;* and the remaining 17% are still pending in some form.
Patent practitioners will be happy to note that all of the original still-pending applications have received at least one office action on the merits. In 79% of those pending applications, the patent applicants have also filed a request for continued examination (RCE).
For abandoned applications, the vast majority go through at least two rounds of prosecution on the merits.
Notes: * There are likely a small number of continuations that have been filed but that have not been made public yet and that therefore would not show up in this result.