The chart below is based upon an analysis of about 2,300 federal decisions that Westlaw classified as a "patent" decisions based upon the Westlaw Headnote.  To make the chart, I tallied the number of times that each Federal Circuit judge was a panel member on a patent decision.  Then, I looked to each of those decisions to identify whether a dissenting opinion was filed in the case.  The red bar shows the results of this inquiry.  Thus, about 27% of the patent decisions that include Judge Pauline Newman as a panel member include a dissenting opinion.  Now, Judge Newman is in the majority in some of those cases and dissents in others.  The blue bars represent the percent of cases where the given judge joined the dissent.  Thus, Judge Newman joined the dissent in about 18% of the patent decisions where she was a panel member.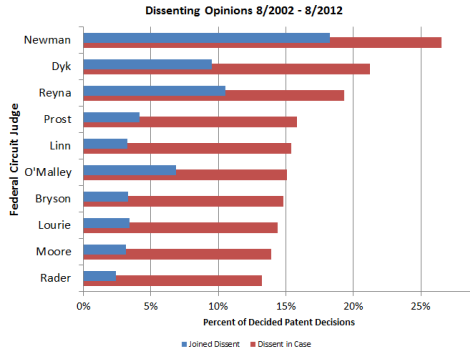 As is apparent from the chart, Judge Rader has the greatest frequency of being on a unanimous panel and, when there is a dissent, he is the least likely to to be the one dissenting.  These are likely good qualities to have in a Chief Judge. Of course, these results primarily rely on decisions that came out before Judge Rader became Chief.
Of course, dissenting views at the Federal Circuit are particularly important because of the lack of other regional circuits deciding patent cases.  Highlighting the ongoing debate in dissenting opinions cues attorneys to consider nuanced viewpoints.  Dissents also help to highlight cases for the Supreme Court.
A few important caveats with the results. 
The search was limited to decisions released between 8/1/2002 and 8/1/2012 that are included in the Westlaw CTAF database and that had been provided with a headnote mentioning the term "patent."   This strategy includes all the major patent decisions and most non-precendential decisions with written opinions. It ordinarily excludes Rule 36 affirmances. 
The results include en banc decisions. These very often include dissenting opinions.
The results include  includes opinions classified as dissenting opinions by Westlaw.  This includes in-part dissents as well as Judge Reyna's recent opinion dubitante. 
I included Judge Reyna and O'Malley in the results. However, their low decision total means that their results are not yet stable.
It is not news that Judge Newman is the most frequent dissenter on the Court of Appeals for the Federal Circuit.  Gov't contracts attorney Stanfield Johnson recently penned an article titled "The Federal Circuit's Great Dissenter" in the area of government contract jurisprudence.  In the view of Mr. Johnson, the dissents arise because Judge Newman is more likely than her colleagues to force the government to defend its actions.