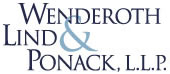 Wenderoth, Lind & Ponack, L.L.P. is seeking a Patent Prosecution Associate to join our Electrical group.
Candidates must have the following qualifications: (1) a strong academic record, (2) a bachelor's degree in Electrical Engineering, (3) membership in a state bar, (4) membership in the patent bar, and (5) at least two years of experience as an Examiner at the USPTO or a patent prosecution associate.
An Associate in this position will be involved in the prosecution of patent applications, advise clients on questions of patentability and render patentability opinions.
Wenderoth, Lind & Ponack, L.L.P. has been a leader in the intellectual property law field for over 90 years. We specialize in patent and trademark prosecution and have maintained long-term partnerships with our clients. Many of our exceptional clients have been working with the firm for over 50 years.
Wenderoth, Lind & Ponack, L.L.P. offers a competitive benefits package and an enjoyable work environment. Salary is commensurate with experience.
Contact
Apply on-line by e-mailing your cover letter, resume and transcripts to: recruiting@wenderoth.com.
Additional Info
Employer Type: Law Firm
Job Location: Washington, D.C.