In a prior post, I discussed payment of maintenance fees. Ordinarily, three post-issuance maintenance fees must be paid in order to keep the patent in force for its entire term. A large entity pays $980 3.5 years after issuance; $2,480 7.5 years after issuance; and $4,110 11.5 after issuance. If the fee is not paid then the patent will expire at the next 4, 8, or 12 year mark. In that 6-month interim (e.g., between the 3.5 year due date and the 4 year expiration date), the fee can still be paid with a $130 surcharge. Once the patent expires, it can still be reinstated if the fee is paid along with an additional surcharge for either unavoidable failure to pay the fee ($700) or unintentional failure to pay the fee ($1,640). In addition, the Patent Office (PTO) must accept your explanation for the delay. Under 35 U.S.C. 41(c), revival for unintentional expiry is only available within two years of the expiration date. Later revival requires proof that the failure to pay the fee was unavoidable - a difficult standard to meet.
The PTO publishes reinstated patents each week in the Official Gazette. Using those publications, I compiled the following table showing the number of patents being reinstated each year. As the chart show, the number of reinstated patents has risen over time. The absolute number of issued patents is also rising, but at a slower rate. Thinking about this as an applicant's 'error rate' - for the past decade, about 2.5 percent of patents that expire due to non-payment of maintenance fees are later reinstated. This is an incredibly high error rate for a purely ministerial function of paying a fee.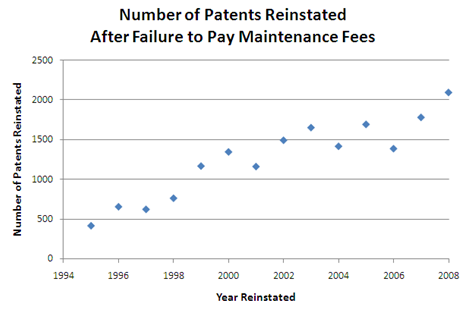 I pulled Patent No. 6,798,824 from the list of reinstated patents that was published in the February 24, 2009 Official Gazette. That patent originally was assigned to InterDigital and is directed to a particular type of spread spectrum communications device. The patent issued on September 28, 2004 and expired four yeas later due to failure to pay the maintenance fees. Realizing its problem, the patent holder filed a petition to accept late payment of maintenance fees on December 19, 2008 and the petition was granted on January 30, 2009. (Note - the petition is not available in PAIR).
Note:
Cite, Dennis Crouch, Reinstating Patents After Failure to Pay Maintenance Fee, Patently-O, https://patentlyo.com/patent/2009/02/reinstating-pat.html (Feb. 26, 2009). See also, Dennis Crouch, USPTO Maintenance Fees, Patently-O, https://patentlyo.com/patent/2009/02/uspto-maintenance-fees.html (Feb. 23, 2009); Dennis Crouch, Formalism at the Federal Circuit: Equitable Plea for Revival is Rejected, Patently-O, https://patentlyo.com/patent/2008/06/formalism-at-th.html (June 10, 2008) (discussing the Federal Circuit's decision in Burandt v. Dudas); Dennis Crouch, Unavoidable Delay: Ignorance as an Excuse?, Patently-O, https://patentlyo.com/patent/2007/08/unavoidable-del.html (Aug. 15, 2007) (discussing the FemSpec case where the DC district court refused to revive a patent - holding that the unavoidable delay standard has a due care element).