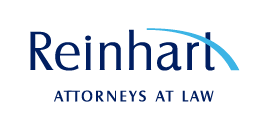 Reinhart Boerner Van Deuren s.c.'s growing Intellectual Property Department is seeking an experienced patent attorney to join our Rockford, IL office. A successful candidate will have patent prosecution experience and technical background in electrical engineering, BSEE required. Candidate must be admitted before the USPTO. Timely admission to the Illinois Bar will be a condition of employment. A partnership opportunity is available. No portable business required but candidate should have strong communication and interpersonal skills in addition to significant client management experience.
Apply online at:
https://www.reinhartlaw.com/careers/career-opportunities/
Include resume, cover letter, undergrad and law school transcripts with your submission.
Additional Info
Employer Type: Law Firm
Job Location: Rockford, IL