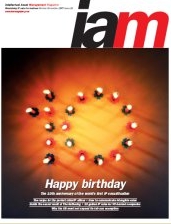 I've enjoyed reading Intellectual Asset Management (IAM) magazine for the past few months and met up with Joff Wild (Editor) and Gavin Stewart (Publisher) at the recent Ocean Tomo auction in Chicago.
IAM's focus is on monetizing and managing intellectual property on a global scale. Or, in their words, "how IP can be best managed and exploited in order to increase company profits, drive shareholder value and obtain increased leverage in the capital markets." The magazine has a bent toward strong IP rights – but its real focus is on how business and finance interplay with intellectual property.
The annual subscription price is £385 — but IAM has offered a 20% discount to Patently-O readers. Contact Alan Mowat with keyword "Patently-O" to subscribe. A short trial is also available. (Unfortunately, I don't get any kickback from this one…).
Links: