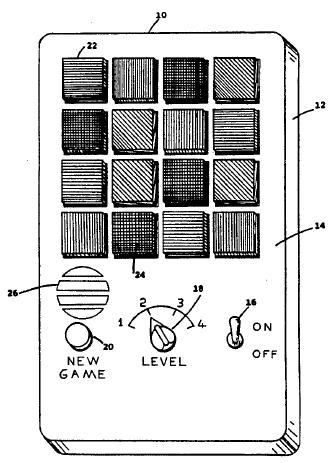 Ghaly v. Hasbro (Fed. Cir. 2004) (04-1124) (unpublished opinion).
Ghaly, a pro se plaintiff, sued Hasbro for infringement of his patent on a hand-held electronic game that operates something like a "hand-held electronic version of a Rubik's cube." (U.S. Patent No. 5,286,037). After construing the terms in the patent, the district court (E.D.N.Y.) granted summary judgment of noninfringement (both literal and DOE) to Hasbro.
On appeal, the Federal Circuit agreed with the lower court's claim construction -- finding that the means-plus-function language of the switch means limited Ghaly's claims to the bi-stable switches disclosed in the specification. Because Hasbro's devices were momentary switches, they could not literally infringe.
Further, the Court disregarded Ghaly's allegations under the doctrine of equivalents because Hasbro's momentary switches were not "after invented technology."
With regards to the "entry control means" limitation . . . there is no after-invented technology in the accused Hasbro device that would render the accused Hasbro devices infringing under our precedents regarding the doctrine of equivalents for means-plus-function limitations. Momentary switches existed at the time of the '037 patent's filing in 1991.
Summary judgment affirmed.
Of course, the "after-invented technology" limitation is based on the holding of Chiuminatta Concrete v. Cardinal Indus. (Fed. Cir. 1998).