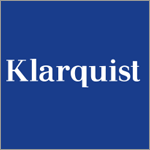 Klarquist Sparkman, LLP, a mid-size law firm focusing exclusively on Intellectual Property law, is actively seeking lateral litigation associates for its office located in Portland, Oregon. Candidates should have excellent academic credentials and preferably 1-4 years of experience litigating complex patent and/or other intellectual property litigation. Excellent writing, interpersonal, and communication skills are required. A technical background, active patent bar, and judicial clerkship experience (particularly at the Federal Circuit Court of Appeals) are highly preferred. The firm's compensation and benefits package is very competitive with other top-level firms in the Pacific Northwest.
Although the firm is based in Portland, our litigation practice is national in scope. Our cases involve a range of technologies, including computer software and hardware, medical devices, mechanical equipment, consumer electronics, and biotechnology. The firm's longstanding clients include Microsoft Corporation, Amazon.com, Inc. and GE, among many others.
Please visit our website to submit your cover letter, resume, transcripts (undergraduate and graduate (if applicable)) and writing sample.
Klarquist Sparkman LLP is an Equal Opportunity Employer.  We do not discriminate, harass or allow harassment against any employee or applicant for employment on the basis of age, racial or ethnic identity or ancestry, sex, religion, creed, national origin, disability, veteran status, marital status or sexual orientation, or any other classification protected by law.
If you have a disability that requires accommodation in order to complete the application process, please contact Human Resources by calling (503) 595-5300.
Klarquist Sparkman, LLP has established an Affirmative Action Program for the Disabled and Veterans. If you would like to review a copy of this Program, please contact Human Resources using the contact information above.
Contact
To apply, please visit this website: http://klarquist.com/about/careers/attorney-positions/.
Additional Info
Employer Type: Law Firm
Job Location: Portland, Oregon