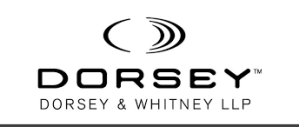 Dorsey's Patent group is seeking a Patent Agent or Technical Advisor with one to five years of patent prosecution experience to be located in our Denver or Seattle offices. Patent bar-eligible candidates with the right technology background and writing experience will also be considered. The ideal candidate will have a passion for understanding and writing about software and electrical technologies, including enterprise cloud and distributed systems, circuit designs, wireless communication technologies, and artificial intelligence. All relevant technical backgrounds will be considered. Strong academic credentials and USPTO admission or eligibility are required.
In this role you will:
 Conduct inventor interviews in preparation for drafting original patent applications.
 Draft patent applications and prosecute patent applications before the US Patent and Trademark office (USPTO) and foreign jurisdictions via communications with local counsel.
 Prepare office action responses for local and international patent applications.
 File documents with the USPTO when required.
 Support patent litigation and perform due diligence on a per case basis.
 Perform patent searches, analyze invention disclosures, scientific or technical documents, and review issued patents in order to evaluate patent specific issues such as patentability and validity.
 Conduct freedom to operate searches, competitive landscape searches, and review prior art.
 Manage a U.S. and foreign patent prosecution docket such that deadlines are met.
 Conduct interviews with examiners at the USPTO.
 Work closely with our collaborative team of attorneys, agents, paralegals, and legal assistants to ensure excellence in client service at all times.
What we're looking for:
 One to five years of agent/advisor experience.
 At least a B.S. in Electrical Engineering, Computer Science, or related field.
 Strong academic performance.
 USPTO admission is preferred.
We are looking for the right person, not just the right resume or experience level. Collegiality and teamwork are highly valued, and broad skills and curiosity can be as important as a specific technical degree.
Dorsey & Whitney LLP accepts online applications. Please go to the "Careers" section of the Dorsey website at www.dorsey.com/staffjobs and complete Dorsey's online application form. If a disability affects your ability to apply using our online system, please call 612-492-5178 to discuss reasonable accommodations in connection with your application. We are unable to accept application materials by mail or email.
Additional Info
Employer Type: Law Firm
Job Location: Denver, Colorado or Seattle, Washington