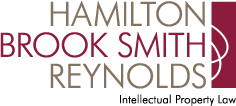 Hamilton Brook Smith & Reynolds, an intellectual property boutique with offices in Boston and Concord, Massachusetts, has a need for a Patent Attorney with a specialty in Biotechnology or a related discipline. Candidates should have a minimum of three years of patent drafting and prosecution experience, and have the necessary skills to work on matters in most areas of Biotechnology and related life sciences. A Master's degree in Biotechnology or related discipline is required. A Ph.D. in Biotechnology is desirable, but not required. Work experience with pharmaceuticals, biotechnology, or general life science patent matters is beneficial.
Successful candidates must have outstanding writing and interpersonal skills, as well as strong academic credentials in technical and legal arenas. A J.D. from an accredited law school with admission to at least one state bar, and registration with the USPTO are required. Demonstrated ability to work directly with clients and develop and execute service strategies is also required.
Apply via email to:
legal.recruitment@hbsr.com.
A cover letter, resume, transcripts from all academic institutions, and a writing sample should be sent to legal.recruitment@hbsr.com.
Additional Info
Employer Type: Law Firm
Job Location: Concord or Boston MA/Remote