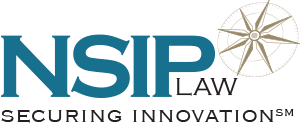 NSIP LAW is currently seeking resumes from patent attorneys or patent agents interested in joining our team.
We welcome resumes from attorneys or agents with at least two years of patent prosecution experience. Our ideal candidates will have a technical background and/or patent prosecution experience in electrical/electronic/software engineering, and in particular, experience in artificial intelligence, recognition technology, neural networks, semiconductors, and/or autonomous vehicle control. The ideal candidates are highly driven, team players, and motivated to provide top-quality work products for the firm and the firm's clients. Ability to speak a foreign language, also welcomed.
We use a hybrid remote working schedule, a mixture of work from home and out of our office in D.C. Out of State or satellite arrangement available for those who qualify. Overflow work is also available for highly experienced attorneys with substantive AI/software prosecution experience.
In addition to your resume, you may submit up to two writing samples, which should be unedited and may include responses to Office Actions, Appeal Briefs, or any other materials otherwise not confidential. All inquiries will be held strictly confidential. Please, no recruiters at this time.
Job Type: Full-time
Benefits:
401(k)
Dental insurance
Flexible schedule
Health insurance
Paid time off
Vision insurance
Schedule:
License/Certification:
Work Location: One location/Hybrid Remote Work
Apply via email to:
hiring@nsiplaw.com
Include a resume and 2 writing samples with your submission.
Additional Info
Employer Type: Law Firm
Job Location: Washington, DC