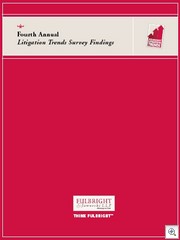 Fulbright & Jaworski recently released some results from its survey of 300 GC's (and AGC's) at large US & UK companies. Results:
Very large companies (>$1B) are much more likley to be hit with charges of patent infringement than are smaller companies (<$100m). Unlike smaller companies, the very large companies also claim that the quantity of charges are on the rise. A small percentage (~3%) of companies with a revenue greater than $100m have defended against more than 50 claims in the past three years.
For most defendants, the major concern is not the potential for an injunction, but rather the cost of litigating.
The very large companies are also more likely to be on the plaintiff side asserting their own patents. The report claims a close correlation between company size and likelihood of enforcing its patent claims through litigation.
The report is free after you provide your contact info: Link. I can also e-mail a copy to you.