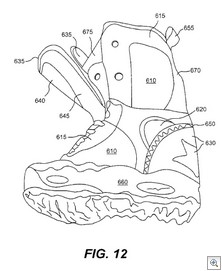 Baychar v. Salomon North America (Fed. Cir. 2008)
As part of a settlement process, parties regularly agree to 'consent decrees' that include admissions that the patent is valid and/or infringed. When signed by a court, those judgments serve important purposes in later direct challenges via res judicata or collateral estoppel. A consent decree may also serve as evidence or a deterrent against other challengers. It is rare, however, for the Federal Circuit to sign a consent decree on appeal.
Baychar sued Solomon for infringement of its snowboard boot liner patent that apparently teaches a better way for wicking moisture. The district court found the patent (1) not infringed based on an implied license and (2) invalid. By the time of oral arguments on appeal, the parties had apparently come to an agreement that Baychar would waive its infringement argument if the court would vacate the invalidity finding. In a short non-precedential opinion, the appellate panel (Judges Mayer, Plager, and Dyk) did just that: affirming that the patent was infringed based on an implied license while vacating the judgment of invalidity.
The business issue here is that Baychar has asserted its patent against multiple defendants, and the invalidity finding would have ruined its chances of success across the board. It was willing to admit defeat in this case as a way to save the patent for another fight.
Notes:
In its opinion, the CAFC noted that the issue of infringement will be resolved by the appellate court rather soon in Baychar v. Burton.
In a prior opinion in the Salomon case, the CAFC dismissed Baychar's appeal on a procedural issue — its notice of appeal was filed five days late. Federal Circuit rules require a notice of appeal of a patent case be filed within 30 days from the final judgment. [Link] Apparently, the district court issued a second final judgment giving Baychar the opportunity to appeal again.