PTO Director John Doll was kind enough to provide me with updated numbers on patent filings through March 17, 2009. The PTO's numbers tell the story that original utility application filings and continuation application filings have slowed in FY 2009 while requests for continued examination (RCE's) filings continue to rise. The Office is now faced with a serious financial crisis. Original filings (i.e., revenues) are down to FY 2004 - 2005 levels but the budget and backlog are both at all time highs. Although I the numbers are still being compiled, two of the PTO's other primary sources of revenue - maintenance fees and late fees - are also down this fiscal year.
The first chart below shows a time series for the percentage of continuation applications and RCE filings as compared to the total UPR filings (Utility, Plant, and Re-Issue applications). Remember here, that for most PTO statistics, RCE filings are counted as a utility application. According to this data, 27.6% of all of the UPR filings thus far in FY09 are RCEs - continuing a steady trend of of rising RCE filings. (Note - the RCE data also includes historical data for CPA and R129 filings).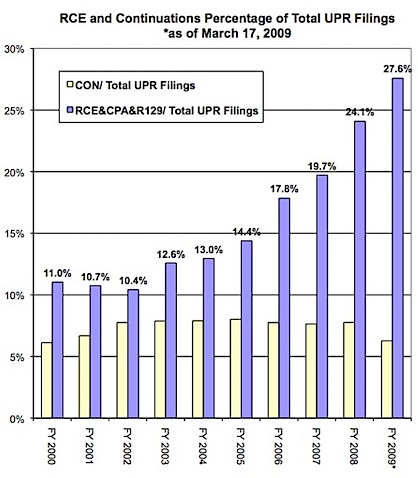 For the next chart, I extrapolated the partial FY 09 data to the entire fiscal year to find some expectation of the total filings for the year. I also removed the RCE/CPA data because most practitioners would not consider those as separate applications. As mentioned above, both the original and continuation filings are down to around FY 04 levels. As compared to FY 08, original filings are on track to drop about 10% while continuations will likely be down over 20%. The large drop in continuation filing is likely an artifact due to the large number of continuations filed at the beginning of FY 08 in anticipation of the looming limits on continuation practice.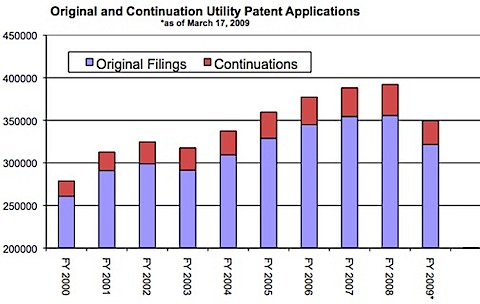 In the title of this post, I link the economic downturn with the downturn in patent filings. Some may also link the drop in patent filings with other recent events that may drop the allure of a patent application - namely, KSR v. Teleflex; eBay v. MercExchange; Bilski; Seagate; the prospect of further patent reform; the Second Pair of Eyes review; 750,000 backlog of unexamined patents; and the 26 month average pendency before the first OA.
> Although not in the title of the graph, the numbers do include plant patent filings which have hovered around 1,000 per year.
Of course, other factors may also