In an earlier article, I noted that only 25.6% of recently issued design patents received at least one rejection during prosecution. I wanted to develop a better understanding of the reasons for rejections, I filtered for recently issued patents that had been initially rejected during process and then pulled-up their file histories using PAIR. For this study, I looked the first non-final rejection of only 86 file wrappers, but even that small number of cases showed a dramatic result.

In my sample, the first non-final rejection came in some combination of six basic forms: anticipation; obviousness; lack of enablement or written description; indefiniteness; new matter; and double patenting.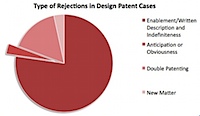 The surprising results are that only 3.5% (3 of 86) of the rejections were prior art related rejections. In three of the cases, the examiner rejected the pending application as obvious in light of the prior art, and in one of those cases the examiner also asserted that the claimed design was anticipated by the prior art. In the remaining 83 cases, the examiner conducted prior art searches but indicated that the claimed design was patentable over the art. Combining probabilities: My data indicates that fewer than 1% of recently issued design patents ever received a novelty or anticipation rejection. (At 99%CI, this may go as high as 2.5%). In other words, design patent applications sail through the PTO.
Although design patent prosecution does not have much focus on inventiveness, examiners are keen to ensure that the scope of the patent claim (via the drawings) is well defined. The most common rejection in my sample was based on confusion created by the drawings. In a design patent application the drawings represent the majority of the specification and also define the claim scope. Thus, it makes sense that confusing or inconsistent drawings would lead to rejection based on both the first and second paragraph of 35 USC 112. In my sample, 79.1% of the rejections (68 of 86) raised a combination of both lacking enablement/description and indefiniteness.
16.2% of the rejections (14 of 86) included an obviousness-type double patenting rejection against an applicant's own previously-filed application. Those rejections are curably through a terminal disclaimer. However, some applicants prefer to argue over the rejection and save patent term. Finally, 3.5% (3 of 86) of rejections focused on new matter added during prosecution. Often, the new matter was allegedly added when the applicant submitted pen and ink drawings to substitute for photographs found in the original.
A Registration System: My data indicates that our design patent system is approaching a registration system. But, there is no problem with a system of design registration - especially if design patents continue to be narrowly construed. Europe's design registration is working well as are the US systems of trademark and copyright registration. In the US, most property rights are registered or recorded rather than thoroughly examined, and those lower-cost mechanisms should probably be the default unless we have some reason to believe that thorough examination is necessary.
Notes:
See, Dennis Crouch, Design Patents: Sailing Through the PTO, Patently-O (April 2, 2009).
My samples of recently issued design patents consists of design patents issued Feb-April 2009.
As I mentioned in the earlier post, these numbers are a bit skewed because the file histories of abandoned design patent applications are kept secret by the PTO unless used as a priority document. Just under 20% of design patent applications are abandoned during prosecution, and I suspect that a greater percentage of those are rejected during prosecution. This consideration would thus skew the results for someone considering the likelihood that a pending design patent application will be rejected.
In an upcoming paper (not yet available) I note that design patents are often used as substitutes for trade-dress protection, but that the overlapping of regimes does not create significant problems.