The large backlog of cases at the PTO has added greatly to the problem of long patent application pendency. There are other contributors to the problem – such as applicants and examiners unwilling to reach a compromise solution (often based on the demands of superiors).
To provide some measure of pendency, I created a database of 20,000+ randomly selected patent applications and issued patents filed 2000 - 2007. For each of case, I tallied the final status as of mid-July 2009. (Status is either patented, abandoned, or pending). Using that data, I created a chart of the percent of utility applications still pending as of July 2009. This data can be helpful for someone considering whether their still-pending application is an anomaly. Over 84% of the applications filed in 2007 are still pending (+/– 2% at 95% CI) , while less than 1% of applications filed in 2000 are still pending (+/– 1% at 95% CI).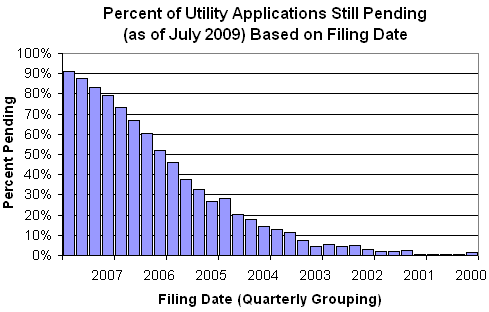 The second chart standardizes the same data according to the amount of time in prosecution.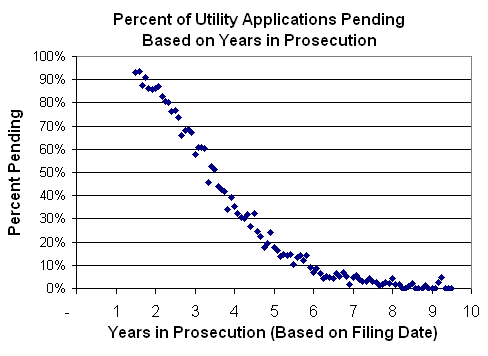 Notes:
This data only includes applications that were either (1) published or (2) patented. I do not know the percentage of cases unpublished cases that are still-pending versus those that are abandoned.
The data presented here does not distinguish between technology centers, continuations, etc. The still-pending rates varies considerably within those different categories.
The pendency rate for applications filed Q4 2004 appears unexpectedly high and the rate for Q1 2005 appears unexpectedly low.. That is at least partially explained by a data collection artifact. My data sample includes a relatively large number of applications filed in late December 2004 and early January 2005 rather than being more evenly distributed throughout the respective three months.