Even the most ardent supporters of the current US patent system will readily admit that the patent examiners do not see or consider all of the relevant prior art.  This is a growing problem for patentees with important or valuable patent rights as (1) courts increasingly see invalidity as the most likely non-settlement outcome of patent litigation and (2) the Supreme Court questions whether the clear-and-convincing standard for invalidating a patent applies when the USPTO failed to consider relevant patentability questions.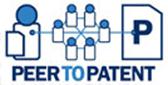 One project directed toward assisting the USPTO in improving its examination is the Peer-to-Patent project operated through New York Law School (NYLS). The USPTO and NYLS have just announced a new expanded Peer-to-Patent project that will open-up 1,000 patent applications to "peer-review" through a novel prior-art submission and commenting system created as part of the project.  To be clear, Peer-to-Patent is not intended to replace the patent examiner's role or the USPTO's examining authority. Rather, the system is designed to support examination by providing prior art deemed important by the peer community and by generating a discussion of how that prior art is related to the invention as claimed.  According to the USPTO press release: "Volunteer scientific and technical experts [will] discuss the applications and submit prior art they think might be relevant to determining if an invention is new and non-obvious, as the law requires. After the review period, the prior art is sent to the USPTO patent examiners for their consideration during examination."  Although the written comments & discussions are not sent to the patent examiner, examiners will be free to read those comments as part of the examination process.
Gold Plating: For applicants, Peer-to-Patent offers a potential mechanism to bolster the credibility of their patent rights. I can imagine the patentee's top litigator explaining to the jury that — in addition to the ordinary rigorous examination process — the applicant volunteered its patent for the gold-standard of academic review — public peer-review. Some applicants do prefer a low-quality examination because they fear that a more rigorous consideration of the prior art would negate any potential for patent protection.  They would rather have a likely invalid patent than no patent at all.  I do not believe that pessimistic view is representative of most of patent applicants.  Instead, most applicants have reasons to believe that their inventions are patentable and prefer strong, predictable rights over facially questionable ones.  The pessimistic view also presents a false patentable/unpatentable dichotomy.  Rather, in the prior pilot, adding Peer-to-Patent to support examination most typically lead to narrowing amendments in the claim scope.  The final claim issued set is hopefully one that is more likely valid while still being valuable to its owner.
It is unclear to me whether a negative inference will also be created — with judges inferring that a patentee who failed to participate in the peer-review system did so because of a lack of confidence in the patentability of its invention.
Accelerating Examination: In addition to the "gold plating" perception discussed above, it appears that the USPTO is offering a queue-jumping incentive to participating patent applicants. Applications that are part of the program will be "advanced out of turn" for initial examination on the merits.  Following this approach, application submissions for the first pilot ended in June 2009 and all of those applications have received at least a first action on the merits.
Objections: Over the past week, I spoke with a number of participants in the earlier US Peer-to-Patent pilot.  I was initially concerned that the reviewer-comments might look like ad hominem attacks with little factual support (as often seen on certain blogs).  Others were concerned that they would see a tremendous flood of prior art that would greatly increase the workload of prosecuting attorneys.  Neither of those concerns were realized. Rather, the reviewers and review communities appeared at with a high level of professionalism, and only a few of the applications under review received more than six prior art submissions.  
Patent Attorney's Duty: At this point in the project, I suspect that patent attorneys and agents are almost under an ethical duty to inform their clients of two-aspects of the project: (1) that applicants can volunteer their own applications for peer-review in the project (under a fairly tight time-schedule discussed below) with the benefits and objections discussed above and (2) that the patent applications of competitors may be available for peer-review.  In the US there is almost no history of third-party participation in the initial patent examination process. That approach is almost unique in the world. As an example, applications at the Japanese Patent Office (JPO) are open for third-party submissions. Over the past year, the JPO has received third-party submissions of prior art in over 8,000 pending cases. Most of the time (~75% of cases), the submitted prior art is used by the JPO examiner in making a rejection. 
Details of Participation in the New Pilot: The new pilot, which begins next week, relies upon patent applicants to volunteer their cases for review. The real timing trick is that applicants must file a consent-to-participate with the USPTO 30–days of publication. (Consent can be filed before publication; there is no fee).  Eligible applications must be published between September 23, 2010 and September 30, 2011. Once the peer-review begins, it will continue for a three-month period. The pilot has expanded to include software, business methods, biotechnology, bio-informatics, telecommunications, and speech recognition technologies.  To participate, the application must have been classified in one of the following technology classes: 260, 370, 380, 424, 435, 455, 504, 514, 518, 532, 534, 536, 540, 544, 546, 549, 554, 556, 560, 562, 568, 570, 702–705, 709, 713, 726, or 987.  The program will have a limit of 1000 participating applications with no more than 25–applications per company.
Links:
OG Notice explaining rules [Not yet available]