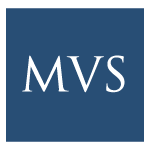 McKee, Voorhees & Sease seeks a full-time associate patent attorney or a patent agent to join its growing Mechanical Practice Group in its Des Moines office.  Candidates must have a Bachelor's degree in Mechanical Engineering, Electrical Engineering, Computer Engineering, or a related field, and are preferably registered with the U.S. Patent and Trademark Office. Candidates will be considered who demonstrate a strong knowledge of patent prosecution in the mechanical and/or electrical fields. Candidates must possess excellent academic credentials and strong research, writing, communication, interpersonal, and organizational skills.  Candidates having 1-3 years of experience in patent prosecution in this field are preferred.
Since 1924, McKee, Voorhees & Sease, P.L.C. ("MVS") has been Iowa's pre-eminent intellectual property boutique law firm. We strive to help our clients obtain and protect their intellectual property rights through patents, trademark, and copyright registrations; representing our clients in transactional work such as licensing when these rights are transferred; and litigating when these rights are involved in controversy. With 17 attorneys, several patent agents, and technical specialists, and a strong support staff, MVS is a full-service intellectual property boutique providing attorneys and agents with a collegial atmosphere, training and mentoring, and a competitive salary and benefits package.  We look forward to hearing from you.
Contact
Please send resume in confidence to Luke T. Mohrhauser via email at luke.mohrhauser@ipmvs.com.
Additional Info
Employer Type: Law Firm
Job Location: Des Moines, Iowa