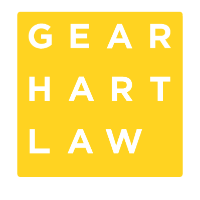 Gearhart Law is seeking an associate level patent attorney (Mechanical/Electrical/Computer Engineering or Computer Science) to join our growing firm. Responsibilities include patent preparation and prosecution, trademark searching/filing, drafting license agreements, counseling clients on the enforcement of their rights, counseling clients on avoidance of their competitor's rights, preparing non-infringement and/or invalidity opinion letters, and counseling clients on designing around competitor's patents.
Associates at Gearhart Law can expect to have a "hands on" approach that entails experience, responsibilities, and opportunities that firms typically restrict to partners. As such, the candidate must excel in a team environment and be a highly motivated self-starter with excellent business judgment, outstanding written communication skills, and the flexibility to thrive in a fast-paced professional environment.
Education/Experience
Preferably an advanced degree (Master's, PhD, etc. or equivalent) but will consider exceptional candidates holding a Bachelor's or equivalent
Industry experience preferred
Attended/graduated from top ABA accredited law school
Registration to practice before the U.S. Patent & Trademark Office
Juris Doctorate (J.D.) and admitted to practice law in at least one state, preferably NJ and/or NY
Minimum of 2+ years of IP experience in house, or with a law firm, or total years at both
Demonstrated experience in both patent preparation and prosecution and trademark matters
Exceptional communication skills, including presentation, interpersonal, writing and conflict resolution
Ability to independently oversee legal matters assigned to the professional
Work collaboratively with other colleagues
Ability to set and meet aggressive deadlines, handle multiple complex legal matters and see projects through to conclusion
Contact
Our compensation is competitive with peer firms and commensurate with our billable hour expectations. Additional compensation is provided for any originating business and meeting certain billable hour thresholds. If interested please send your cover letter, resume, undergraduate and law school transcripts, and three writing samples to: James Klobucar (james@gearhartlaw.com).
Additional Info
Employer Type: Law Firm
Job Location: Summit, New Jersey

Gearhart Law is a preeminent IP boutique located in the New York metropolitan area of Summit, New Jersey. Since its inception in 2006, Gearhart Law has helped thousands of clients, from budding entrepreneurs to established multinational corporations, obtain meaningful and enforceable IP rights.