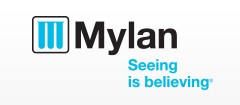 At Mylan, we mean it when we say we work every day to provide access to high quality medicines to the world's 7 billion people. If you are unconventional, relentless and passionate. If you believe in doing what's right, not what's easy. If you are a doer and have a passion for serving others, we want to talk to you.
Make a Difference
At Mylan, each person has the ability to make a difference. From the providers who sell and market our products to the producers who develop and manufacture them and finally to our business partners who support the providers and producers, we all have a mission critical role. Here's how this role will help:
Responsible for advising on all intellectual property matters relating to the development and global commercialization of biologics products, including identifying, assessing, avoiding or invalidating patents, and obtaining and defending patent and trade mark protection for Mylan's biologics products.
Evaluate global patent searches and provide multi-region freedom to practice clearances. Render opinions regarding infringement and validity of third party patents in regions of commercial interest around the world. Ability to read and interpret comprehensive and intricate research documents and write scientific reports and technical correspondence. Ability to solve problems with complex variables through non-standardized solutions that require independent judgment and analysis; draw inferences and use deductive reasoning with no prescribed procedures to solve complex problems.
Work with executives and communicate abstract concepts and present to a high level of the organization and groups outside of the organization. Assist with the management of global biologics patent litigation (including patent office actions) and licensing initiatives.
Partner with clients in cross functional product development core teams and participate in intellectual property portfolio management teams. Counsel internal clients regarding IP issues relating to Mylan's biologics business. Communicate with external Counsel, Courts and Agencies.
Provide legal advice and counsel on intellectual property matters relevant to the supply of biologics products globally. Identifies patent risks relating to the development and sale of biologics products around the world, and develop and implement creative patent strategies which enable Mylan's commercial success in biologics.
Manage outside counsel services, including work product, budgets, and invoices. Provide patentability evaluations for internal and external projects. Oversee the preparation, filing, and prosecution of intellectual property (including patents, trademarks and domain names) to obtain IP protection related to Mylan's products.
Make Our Values Your Values
Mylan hires only the best. People who thrive in a culture of innovation and empowerment. People who are active learners and have a positive attitude. People who are leaders and know that by working together we can run faster, reach higher and achieve more. By doing so, we will continue to set new standards in health care. Here are the minimum qualifications and essential functions for this position:
A Juris Doctor degree and a minimum of 10-12 years of experience with patent litigation and patent opinion and a minimum of 5 years of experience with Biologics patent clearance and/or prosecution is required. Related experience may be considered.
Masters or PhD preferred.
Licensed in one or more jurisdictions is required.
Must have experience with and possess knowledge of the pharmaceutical industry with emphasis on biologic/biosimilar product development. Must be able to apply a wide range of legal principles, theories and concepts and have a working knowledge of industry practices. General knowledge of other related disciplines.
Must possess excellent written and oral communication skills, interpersonal skills.
Proficiency in speaking, comprehending, reading and writing English is required.
Why Mylan?
If you want to be part of a global health care company that is making a difference and changing lives, Mylan may be the place for you. With a workforce of more than 35,000 worldwide, we can make a difference. We encourage you to visit Mylan.com to learn more about our unconventional culture, our approach to doing business and how we plan to set new standards in health care.
Mylan offers competitive salary, excellent benefits and an environment conducive to professional growth and advancement. All qualified applicants will receive consideration for employment without regard to their disability or protected veteran status. Mylan is an Equal Opportunity Employer, Minorities/Female/Disabled/Veteran.
Contact
To apply, please visit this website: https://mylan.taleo.net/careersection/jobdetail.ftl?job=17000114&lang=en#.WNA3Aje_78o.twitter.
Additional Info
Employer Type: Large Corporation
Job Location: Canonsburg, Pennsylvania