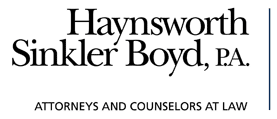 Haynsworth Sinkler Boyd, P.A., has offices in Charleston, Columbia, Florence, Greenville, and Myrtle Beach, South Carolina.  With more than 100 experienced attorneys we encompass a broad spectrum of business and litigation practice areas.
Our Charleston, South Carolina office is seeking candidates for a full time Corporate/Intellectual Property Paralegal position.  We offer a competitive salary and benefits package in a professional, progressive work environment.
Qualified applicant should possess prior experience in business and corporate law, a willingness to learn the following areas of intellectual property law: preparing and filing documentation for patent and trademark applications, both domestic and international, as well as updating and monitoring IP docketing systems.
Related duties and requirements include:  client relations;  document management and correspondence; excellent computer skills including MS Outlook, Word and Excel, Westlaw and Eclipse;  exceptional organizational and communications skills;  and ability to perform in a fast-paced environment.  Paralegal Certificate and/or four year degree preferred.
Contact
Qualified candidates should send resumes in confidence to: Human Resources, E-MAIL: mschachte@hsblawfirm.com.
Additional Info
Employer Type: Law Firm
Job Location: Charleston, South Carolina