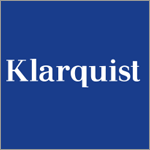 Klarquist Sparkman, LLP, a mid-size law firm focusing exclusively on Intellectual Property law, is actively seeking lateral litigation associates for its office located in Portland, Oregon. Candidates should have excellent academic credentials (top 33% of class preferred, top 10% strongly preferred) and preferably at least 1-4 years of experience litigating complex patent and/or other intellectual property litigation. Excellent writing, interpersonal, and communication skills are required. A technical background, active patent bar, and judicial clerkship experience (particularly at the Federal Circuit Court of Appeals) are highly preferred.
Klarquist professionals could practice anywhere; at the largest law firms and companies, and in the largest cities. They chose Klarquist because here they can pursue both their passion for law and their passion for life. Our reputation for excellence and emphasis on maintaining a work/life balance attract experienced attorneys from large general practice firms as well as IP boutiques, and appeal to top students from national and local law schools.
Employee Benefits:
401(k) Retirement Plan and profit sharing
Comprehensive health care plan, which includes medical, dental and vision coverage
Long and short-term disability coverage
Life and AD&D insurance
Pre-tax transit and flexible spending accounts
Family/dependent care leave stipend
Contact
To apply, please visit this website: https://klarquist.com/about/careers/litigation-associate/. Include your cover letter, resume, transcripts (undergraduate and graduate [if applicable]) and writing sample.
Additional Info
Employer Type: Law Firm
Job Location: Portland, Oregon