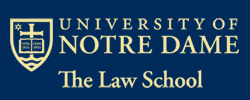 Notre Dame Law School is seeking a Program Director as part of a major investment in its Program in Intellectual Property and Technology Law. The Program has grown considerably over the past decade—with new faculty, a new Intellectual Property & Entrepreneurship Clinic, greatly expanded course offerings, high-level conferences and other events, and tremendous student success. The University has also made substantial investments in innovation and entrepreneurship-related activities, and it is in the early phases of building a distinctive, University-wide interdisciplinary program on technology ethics. The Law School is poised to take the next step in building its reputation in this important area, and a dynamic Program Director will be central to this effort.
Essential Duties and Responsibilities
The Program Director will work closely with the Faculty Director of the Law School's Program on Intellectual Property and Technology Law to develop and implement a strategic plan for the Program and coordinate the Program's many projects and activities.
Leadership
Along with the Faculty Director, provide strategic leadership for the Program. More specifically: a) develop a long-term plan to increase the Program's profile, depth, and financial resources; b) oversee day-to-day operations of the Program, with attention to fiscal, programming, and policy matters; c) work with the Law School communications personnel to manage Program communications, including web pages, social media, and community relations; and, d) organize and direct all events.
Academic
Work with the Faculty Director and other Program faculty to develop distinctive and relevant programming that raises Notre Dame's academic and intellectual profile within the intellectual property and technology law fields, potentially including: seminars, research collaborations, conferences, lecture series, and guest lectures. Identify and facilitate opportunities for IP faculty to broaden their reputation and recognition among academic peers, judges and practitioners, alumni, and the general public. Help recruit talented students to study intellectual property and technology law at Notre Dame, and develop (and possibly co-teach) exciting new curriculum. Work with the Faculty Director to increase opportunities for students to participate in competitions, conferences, and other events relevant to intellectual property and technology law.
Alumni Relations and Engagement
Work with Program faculty to deepen relationships with members of the practicing IP and technology law community, and particularly with Notre Dame alumni working in the field. Facilitate events involving students, alumni, and faculty. Work to establish partnerships and collaborations with individuals, corporations, foundations, and governmental, organizations interested in IP and technology law.
Contact
Apply online by visiting this link: https://jobs.nd.edu/postings/17025. Applicants should submit a cover letter and resume.
Additional Info
Employer Type: Education
Job Location: Notre Dame, Indiana