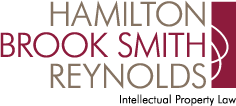 Hamilton Brook Smith & Reynolds, an intellectual property boutique with offices in Boston and Concord, Massachusetts, has an immediate need for a Patent Attorney with a specialty in Electrical Engineering or related discipline. Candidates should have a minimum of two years of patent drafting and prosecution experience, and have the necessary skills to work on matters in most areas of electrical engineering. A Bachelor's degree in Electrical Engineering or related discipline is required. Experience with optics, signal processing, and/or computer networking is a plus.
Successful candidates will have outstanding writing and interpersonal skills, as well as strong academic credentials in technical and legal arenas. J.D. from an accredited law school with admission to at least one state bar, and registration with the USPTO are required. Demonstrated ability to work directly with clients and develop and execute service strategies is required.
At our firm, you will be an integral part of a dynamic, highly-respected IP practice. You will build strong relationships with colleagues and clients, and contribute to deeply meaningful and interesting work in a collaborative team environment. Our attorneys enjoy a healthy work-life balance.
Contact
To apply, please email us at: legal.recruitment@hbsr.com. Resumes and cover letters should be sent to: Director of HR
Additional Info
Employer Type: Law Firm
Job Location: Concord, / Boston, Massachusetts