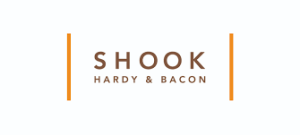 Shook is seeking one or more commercial litigators for our intellectual property group to work with our roster of national brand-name clients. Positions are available in any of our US office locations. You will work on complex, high-stakes matters in federal courts across the country. We represent both plaintiffs and defendants in technology areas ranging from electronics and telecommunications to medical devices, industrial equipment, and consumer goods. Desired candidates will have 2+ years of experience in complex commercial litigation, with a preference for experience in patent, copyright, trade secret, or trademark matters. All backgrounds are encouraged to apply. Candidates with backgrounds in computers, engineering, math, and science are preferred. Individual or groups of attorneys seeking new opportunities are encouraged apply . The candidate must be licensed to practice in the state where the office resides. No portable business needed.
Founded in 1889, Shook, Hardy & Bacon L.L.P. has 18 offices in the United States and London, with attorneys and professional staff serving clients in the health, science and technology sectors in areas ranging from product liability defense and business litigation to intellectual property prosecution and litigation, environmental and toxic tort, privacy and data security and regulatory counseling.
Shook's office locations include Atlanta, Boston, Chicago, Denver, Hartford, Houston, Kansas City, London, Los Angeles, Miami, Orange County, Philadelphia, New York, San Francisco, Seattle, St. Louis, Tampa and Washington, D.C.
Interested candidates are encouraged to apply online at https://www.shb.com/careers/legal-recruiting. Please, no third party submissions. Shook, Hardy & Bacon L.L.P. is an Equal Opportunity Employer.
Additional Info
Employer Type: Law Firm
Job Location: Multiple Locations