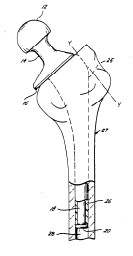 Howmedica Osteonics v. Tranquil Prospects (Fed. Cir. 2005).
In a dispute over a patented artificial hip prosthetic, a Federal Court in Indiana determined that Tranquil's patent claims were invalid as indefinite under 35 U.S.C. Section 112, paragraph 2. Specifically, the court found that the term "transverse sectional dimension" was indefinite to one skilled in the art.
The second paragraph of Section 112 provides that the "specification shall conclude with one or more claims particularly pointing out and distinctly claiming the subject matter which the applicant regards as his invention." This section has been read to create a invalidity defense based on a lack of definiteness of the patent claims. Generally, a claim is indefinite if its legal scope is not clear enough that a person of ordinary skill in the art could determine whether a particular [product or method] infringes or not. Geneve Pharms, 349 F.3d 1373.
On appeal, the Court of Appeals for the Federal Circuit relied upon the purposes of the invention to determine that the one of ordinary skill would readily ascertain that the "transverse sectional dimension" is definite and calls for a two-dimensional measurement.

One of ordinary skill in this art would recognize that a one-dimensional linear measurement of the "transverse sectional dimensions" would defeat the purpose of the invention to provide a snug fit of the prosthesis in the medullary canal. A two-dimensional measurement, on the other hand, provides the snug fit that is the centerpiece of this invention.
The court went on to vacate the district court's summary judgments on both indefiniteness and noninfringement. The case was remanded for further proceedings.
Download Decision: Howmedica Osteonics Corp. v. Tranquil Prospects, Ltd. (04-1302).pdf