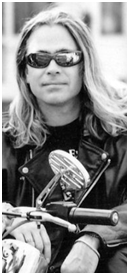 By Dennis Crouch
StoneEagle Services v. Gillman and Nextpay (Fed. Cir. 2014)
This case offers an important reminder that patent ownership is largely a matter of local law – be it state or foreign-national. The result is that disputes over ownership (as opposed to inventorship) do not raise a federal cause of action. Here, the DJ plaintiff also pled inventorship (normally a federal claim under 35 U.S.C. §256), but that claim failed to keep the case in Federal Court because there was no actual dispute over inventorship. From an academic standpoint, the case is also interesting based upon the Federal Circuit's conclusion that a claim of "authorship" is nothing like a claim of "inventorship."

Partnership with Joint Ownership: Several years ago, David Gillman collaborated with Bobby Allen (StoneEagle's CEO at right) on a project to convert StoneEagle's automotive industry electronic payment system into one that would also work to process health care claims. The subsequent patent application named only Allen. U.S. Patent No. 7,792,686. According to the documents, Gillman has never claimed to be a co-inventor of the '686 patent. However, based upon the collaboration agreement, Gillman was a 50% owner of the patent application. Gillman did eventually assign his rights in the application to StoneEagle.
The dispute arose when Gillman later declared at a meeting that he held ownership rights and that the patent documents were on his PC. According to the complaint "Gillman suddenly and falsely claimed that it is his patent, that he wrote the patent, that it is on his computer, and that he 'authored' or 'wrote' it, or words to that effect.' Gillman allegedly threw down his business cards and left the meeting."
StoneEagle then sued for declaratory judgment that it was sole owner and that Allen was the sole inventor. In addition, the lawsuit alleged a variety of state law trade secret and contract claims. The district court issued a preliminary injunction against Gillman on the trade-secret and contract claims that gave Gillman the immediate right to appeal.
The declaratory judgment act provides that
In a case of actual controversy within its jurisdiction . . . any court of the United States, upon the filing of an appropriate pleading, may declare the rights and other legal relations of any interested party seeking such declaration . . .
28 U.S.C. §2201. The Supreme Court broadly interprets the DJ act has extending to the constitutional limits of Article III jurisdiction. Thus, "the facts alleged, under all the circumstances, [must] show that there is a substantial controversy, between parties having adverse legal interests, of sufficient immediacy and reality to warrant the issuance of a declaratory judgment." MedImmune. Here, Gillman's attorney basically admitted that an actual case-or-controversy exists between the parties, but that controversy is over a state-law-claim of ownership and the DJ statute requires a case-or-controversy over an issue "within [the federal court's] jurisdiction."
In reading StoneEagle's complaint here, the Federal Circuit found that the pleading lacks sufficient allegations of a controversy concerning inventorship.
[J]urisdiction in this case turns on whether StoneEagle's complaint alleges a sufficient controversy concerning inventorship. It does not. . . . As StoneEagle's only factual allegations concerning inventorship are that Gillman authored the patent application, the complaint, viewed in its totality, has not alleged a controversy over inventorship that satisfies Article III.
On remand the case will be dismissed and perhaps re-filed in Texas state court.
= = = =
The case has some interesting discussion of the role of patent attorneys in this process. Here, Gillman (a non patent-law professional) had drafted the patent application at issue. At oral arguments, Judge Rader noted that, although only certain folks are allowed to actually file a patent application with the USPTO, "anyone can help write it." The decision then goes into some detail on how a patent drafter should not be considered an inventor:
In this case, the most favorable inference from the record in favor of StoneEagle shows only that Gillman assisted in constructively reducing an invention to practice. See Solvay S.A. v. Honeywell Int'l, Inc., 622 F.3d 1367, 1376 (Fed. Cir. 2010). Those activities confer no more rights of inventorship than activities in furtherance of an actual reduction to practice. Otherwise, patent attorneys and patent agents would be co-inventors on nearly every patent. Of course, this proposition cannot be correct.
No inventing happens by scriveners who merely write down the invention.
= = = =
In part, this decision turns on the Federal Circuit's knowledge that copyright law is very different from patent law, although both arise from the same Constitutional provision, "authors" get copyright and "inventors" get patent. Although the court understands this distinction quite well, most people do not. On at least a weekly basis, I talk with incredibly intelligent people who get confused over the differences and their importance. [Note here – Monday's Supreme Court oral arguments]. It looks like the DJ plaintiff could have done a much better job of providing evidence alerting the court to this real-world fact that people are confused on this topic and that Gillman's claim of authorship was reasonably understood by folks in the room as a claim of inventorship.