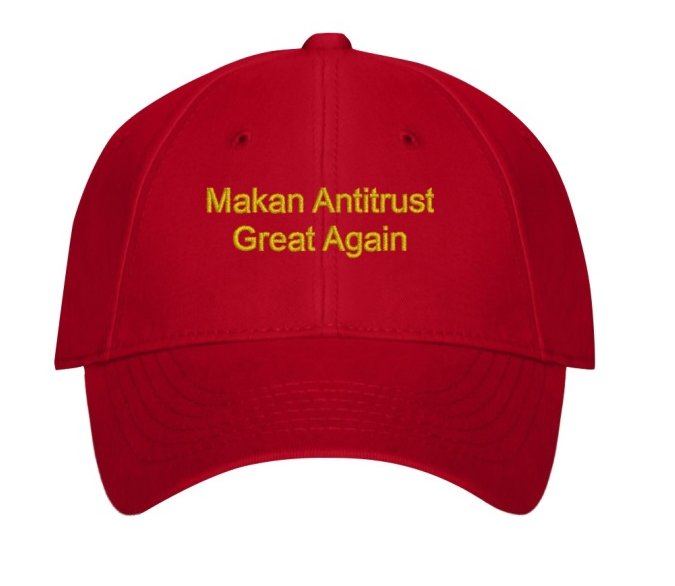 For the first time ever, the head of the Antitrust Division for the Department of Justice is a patent attorney – Makan Delrahim – who is known to be "Makan Antitrust Great Again"
In a recent speech, Delrahim explained his general position – that patent holders rarely create antitrust concerns.  Rather, it is equally likely that the problem lies with companies implementing new technologies without first obtaining a license from the relevant patent holders.  He explained that the DOJ's historic approach has been a "one-sided focus on the hold-up issue" in ways that create a "serious threat to the innovative process."
In response to Delrahim's approach, a group of technology implementer companies (also known as downstream innovators) and law professors wrote to Delrahim arguing that "patent hold-up is real, well documented, and harming US industry and consumers" — especially in the area of Standards Essential Patents (SEP) — and in ways that the antitrust laws should help fix.
Sweeping in now to buffer Delrahim's position are a group of libertarian scholars and others (including David Kappos and Judge Michel) who have offered their competing letter.  Their position is largely that the drastic remedies associated with antitrust laws should only be used based upon strong evidence of problems being caused in the market.  Here, they argue that no evidence has shown that violations of FRAND commitments actually cause market harm.
Prof. Jorge Contreras has written on these issues in several Patently-O posts. Contreras did not sign either letter.
Guest Post by Prof. Jorge Contreras: TCL v. Ericsson: The First Major U.S. Top-Down FRAND Royalty Decision
Unwired Planet v. Huawei: An English Perspective on FRAND Royalties
Guest Post on Using the Antitrust Laws to Police Patent Privateering
Good Things Come in Threes? DOJ, FTC and EC Officials Wax Eloquent About FRAND