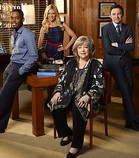 Here are the opening lines of the new NBC show "Harry's Law."
Partner: In less than a month, you have gone from being one of the best patent lawyers in the country, much less Cincinnati. And now… What the hell has happened?
Harry: Well, what's happened is that after 32 years of dedicated practice, I have come to the unfortunate if not altogether surprising conclusion that patent law is as boring as a big bowl of steam dog sh__.  It's dull Robert, I lead a dull life, with dull partners. I'd sooner look into a mirror and watch my teeth rot than do one more case involving patent law.
Partner: I'm afraid this is the end, Harry… You're fired.
http://www.hulu.com/watch/207640/harrys-law-pilot.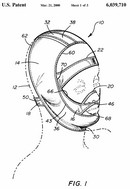 The show was created by David E. Kelley. Kelley is a co-inventor on Patent No. 6,039,710 that claims an "apparatus for providing facial support" in order to reduce "sagging of the cheeks."
Clearly, the firing partner is channeling Cincinnati patent lawyer Stephen Albainy-Jenei. My question is, which Frost-Brown-Todd attorney served as the model for the show's lead?