by Dennis Crouch
Stryker Corp. v. Zimmer, Inc. (Fed. Cir. 2018)
In a R.36 judgment-without-opinion, the Federal Circuit has affirmed Stryker's $250 million willful-infringement verdict against Zimmer.  In the case, the jury found the asserted claims valid and infringed and awarded $70+ million in compensatory damages.  The jury also found that the infringement was willful.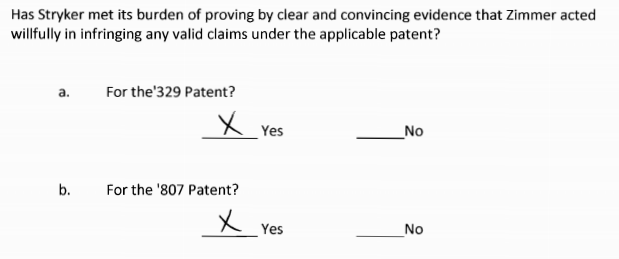 After receiving the jury verdict, W.D. Mich Judge Jonker awarded treble damages for the willful behavior — "Given the onesidedness of the case and the flagrancy and scope of Zimmer's infringement, the Court concludes that treble damages are appropriate here."
The district court's opinion carefully walked through the determination of whether or not to enhance damages.  Writing that "in this case, all nine Read factors favor substantial enhancement of the jury's award." However, the district court did not really explain its choice to award 3x compensation rather than 2x or 2.5x.
On appeal, the Zimmer focused on the 3x-limit and argued that treble damages should be "reserved for the most egregious cases" and that the level of damage enhancement must be proportional to the egregiousness of the intentional misbehavior.  In oral arguments, Chief Judge Prost offered skepticism as to the role of the appellate court to re-evaluate the level of enhancement:
You're saying you're agreeing there is going to be enhancement, and now we are talking about whether it should be three times, or two and a half times, or one and a quarter times. . . . It is really hard at the appellate level for us to start scrutinizing what percentage the district court should have applied. Even if . . . [the district court] went too far . . . what are we supposed to do with that?
[Oral arguments]. In its judgment, the Federal Circuit affirmed the lower court ruling without providing any reasoning. Thus, it is unclear whether the Federal Circuit (1) disagrees with the need for porportionality or instead (2) found sufficient evidence proportionality in this case to affirm.  I'll note here that, although Chief Judge Prost suggested the difference between 3x and 2.5x is splitting hairs, the difference is about $40 million.  We must be talking here about splitting the golden hairs of the Norse goddess Sif.
Note – this case is a continuation of Stryker Corp. v. Zimmer Inc. decided by the Supreme Court in 2016.  The procedural history here is that the district court's original judgment of enhanced damages was reversed by the Federal Circuit in its 2014 decision. The Supreme Court then took-up the case and ruled, inter alia, that an objectively reasonable defense does not excuse willfulness.  On remand, the District Court again awarded treble damages — and that award has now been affirmed.