by Dennis Crouch
Laches: The Supreme Court granted SCA's writ of certiorari on the question of whether laches defense applies to block back-damages in patent cases. The Federal Circuit says "yes" while the Supreme Court recently said "no" in a parallel copyright case (Patrella).  The Supreme Court decided Patrella 6-3 with Justice Scalia in the majority offering the potential of a tight-split in this case.  The court looks to be sitting-on the parallel case of Medinol v. Cordis until SCA is decided.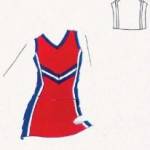 Copyright on Useful Articles: Although not a patent case, the court also decided to hear a "useful article" copyright case.  Star Athletica v. Varsity Brands.  The case asks whether the stripes and chevrons found in a cheerleader uniform are sufficiently "separable" from the uniform in order to be copyrightable.  The useful article doctrine is generally considered to be setting up a boundary line between the domains of copyright and patent.
More Challenges to USPTO Authority: MCM filed its petition for writ of certiorari directly challenging USPTO authority to conduct inter partes review proceedings with two easy questions:
Does IPR violate Article III of the Constitution?
Does IPR violate the Seventh Amendment to the Constitution?
[MCM Petition and Appendix] MCM's brief was filed Tom Goldstein along with Ned Heller.  The question for the Supreme Court is whether to extend or contract from its position in Stern v. Marshall, 131 S. Ct. 2594 (2011) where the court held that Article III of the U.S. Constitution prohibits Congress from withdrawing "from judicial
cognizance any matter which, from its nature, is the subject of a suit at the common law, or in equity, or admiralty." Quoting Murray's Lessee v. Hoboken Land & Improvement Co., 59 U.S. 272  (1856)).
The brief raises a set of interesting old cases focusing both on the separation of powers and the tradition that patent-revocation for invalidity requires a jury to decide disputed facts.
Ex Parte Wood & Brundage, 22 U.S. 603 (1824)
McCormick Harvesting Mach. Co. v. C. Aultman & Co., 169 U.S. 606 (1898)
Mowry v. Whitney, 81 U.S. 434 (1871)
Murray's Lessee v. Hoboken Land & Improvement Co., 59 U.S. 272 (1856)
Neilson v. Harford, Webster's Patent Cases 295 (1841)
Pennock v. Dialogue, 27 U.S. 1 (1829)
United States v. Am. Bell Tel. Co., 128 U.S. 315 (1888)
Cooper v. Lee raises some parallel issues. Its petition will be considered by the Court in its May 12. [Update: The court has "rescheduled" consideration of Cooper's brief – perhaps awaiting its own determination in Cuozzo.]
Hereby Assign Future Inventions: In Shukh v. Seagate, the petitioner raises the long-brewing question involving the Federal Circuit's interpretation of patent assignments.  In particular, the Federal Circuit has ruled – as a matter of federal patent law – that patent rights are assignable before their invention is even contemplated. The petition asks:
[W]hether FilmTec's "automatic assignment" rule should be overruled because it extinguishes inventors' constitutional and statutory rights to inventorship and ownership.
In Stanford v. Roche, Justices Breyer, Ginsburg and Sotomayor criticized the Federal Circuit's rule and suggested that the issue should be presented in a future case. The majority expressly noted that its opinion did not decide the issue. [Shukh v. Seagate – Redacted Public Petition]
Disparaging Trademarks: A pair of disparaging trademark cases have also been petitioned: Lee v. Tam ("Slants") and  Pro-Football v. Blackhorse ("Redskins").   The Federal Circuit previously held the limit on registering disparaging marks to be an unconstitutional abrogation of the freedom of speech.
The big list:
1. Petitions Granted:
SCA Hygiene Products Aktiebolag v. First Quality Baby Products, LLC, No. 15-927 (laches in patent cases).
Cuozzo Speed Technologies, LLC v. Michelle K. Lee, No. 15-446 (BRI construction in IPRs; institution decisions unreviewable)
Samsung Electronics Co. v. Apple Inc., No 15-777 (design patent damages calculation)
Stryker Corporation, et al. v. Zimmer, Inc., 14-1520 (enhanced damages) (linked with Halo)
Halo Electronics, Inc. v. Pulse Electronics, Inc., No. 14-1513 (enhanced damages) (linked with Stryker)
2. Petitions Granted with immediate Vacatur and Remand (GVR)
3. Petitions for Writ of Certiorari Pending:
Laches: Medinol Ltd. v. Cordis Corporation, et al., No. 15-998
Indefiniteness: The Dow Chemical Company v. Nova Chemicals Corporation (Canada), et al., No. 15-1160 (standard for appellate review of jury verdict of definiteness that is inherently based upon the jury's factual findings) [DowPetition]
Exhaustion: Impression Products, Inc. v. Lexmark International, Inc., No. 15-1189 (unreasonable restraints on downstream uses)
Obviousness: Cubist Pharmaceuticals, Inc. v. Hospira, Inc., No. 15-1210 (bright line limits on secondary indicia of nonobviousness) [CubistPetition]
Post Grant Admin: MCM v. HP, No 15-1330 (separation of powers and right to jury trial).
Post Grant Admin: Versata v. SAP, No. 15-1145 (scope of CBM review)
Post Grant Admin: Cooper v. Lee, No. 15-955 (whether IPRs violate Separation of Powers; two amici now filed in support)
Post Grant Admin: Click-to-Call Tech, LP v. Oracale Corp., No. 15-1014 (Same questions as Cuozzo and now-dismissed Achates v. Apple)
Post Grant Admin: GEA Process Engineering, Inc. v. Steuben Foods, Inc., No. 15-1075 (Flip-side of Cuozzo: Can there be no appeal when the PTAB exceeds its authority by terminating an instituted IPR proceeding?)
Post Grant Admin: Interval Licensing LLC v. Michelle K. Lee, No. 15-716 (Can the Patent and Trademark Office appropriately apply the "broadest reasonable interpretation" standard in construing patent claims in post-grant validity challenges?)
Post Grant Admin: Stephenson v. Game Show Network, LLC, et al., No. 15-1187 (is BRI proper for IPR validity challenges?; Same as Cuozzo) [GameShowNetworkPetition]
Assignment: Shukh v. Seagate, No. 15-1285 (pre-invention assignment of future patent rights)
Biologics Notice of Commercial Marketing: Sandoz Inc. v. Amgen Inc., et al., No. 15-1039 (Does the notice requirement of the BPCIA create an effective six-month exclusivity post-FDA approval?) (cross-petition asks for recourse on failure to dance).
Design Patents: Systems, Inc. v. Nordock, Inc., No. 15-978 (design patent damage calculations – similar issues as Samsung v. Apple)
Inducement: Life Technologies Corporation, et al. v. Promega Corporation, No. 14-1538 (whether an entity can "induce itself" under 271(f)(1))(CVSG, awaiting government brief)
Preclusion or Jurisdiction: Globus Medical, Inc. v. Sabatino Bianco, No. 15-1203 (Appellate jurisdiction of the Federal Circuit) [GlobusMedicalPetition]
Eligibility Challenges: Sequenom, Inc. v. Ariosa Diagnostics, Inc., et al., No. 15-1182 (scope of the natural phenomenon eligibility exclusion)
Eligibility Challenges: Cloud Satchel, LLC v. Barnes & Noble, Inc., et al., No. 15-1161 (abstract idea eligibility) [CloudSatchelPetition]
Eligibility Challenges: Vehicle Intelligence and Safety LLC v. Mercedes-Benz USA, LLC, et al., No. 15-1201 (abstract idea eligibility) [VehicleIntelligencePetition]
Damages: Innovention Toys, LLC v. MGA Entertainment, Inc., et al., No. 15-635 (Stryker/Halo follow-on – potential wait-and-see)
Damages: WesternGeco LLC v. ION Geophysical Corporation, No. 15-1085 (consequential lost-profit damages for infringement under Section 271(f))
4. Petitions for Writ of Certiorari Denied or Dismissed:
Limelight Networks, Inc. v. Akamai Technologies, Inc., et al., No. 15-993 (can a defendant be held liable for the collective performance of method steps by multiple independent parties?)
Hemopet v. Hill's Pet Nutrition, Inc., No. 15-1062 (natural phenom case of tailoring a diet to a pet's genomic characteristics)
Tas v. Beach, No. 15-1089 (written description requirement for new drug treatments)
Retirement Capital Access Management Company, LLC v. U.S. Bancorp, et al., No. 15-591 (Whether subject matter eligibility under 35 U.S.C. § 101 is a ground specified as a condition for patentability under 35 U.S.C. § 282(b)(2))
Vermont v. MPHJ Technology Investments, LLC, No. 15-838 (Federal court jurisdiction in anti-troll consumer protection case)
Daiichi Sankyo Company, Ltd. v. Michelle K. Lee, No. 15-652 (Patent Term Adjustment – whether the 180 day deadline applies; could bleed into admin law issues)
Parkervision, Inc. v. Qualcomm Incorporated, No. 15-1092 ("Whether and under what circumstances an inconsistency in expert testimony permits a court to set aside a jury verdict and grant the losing party judgment as a matter of law.")
Joao Bock Transaction Systems, LLC v. Jack Henry & Associates, Inc., No. 15-974 (defining an abstract idea)
Biogen MA, Inc. v. Japanese Foundation for Cancer Research, et al., No. 15-607 (Whether AIA eliminated federal district courts' jurisdiction over patent interference actions under 35 U.S.C. § 146.)
BriarTek IP, Inc. v. DeLorme Publishing Company, Inc., et al., No. 15-1025 (Preclusive impact of ITC consent judgment).
Morales v. Square, No. 15-896 (eligibility under Alice)
ePlus, Inc. v. Lawson Software, Inc., No. 15-639 (what happens with a finally-determined permanent injunction after PTO cancels the patent claim?)
Media Rights Technologies, Inc. v. Capital One Financial Corporation, et al., No. 15-725 (Claim Construction: whether there a strong presumption against construing terms as subject to 35 U.S.C. § 112p6 that do not recite the term "means.")
Alexsam, Inc. v. The Gap, Inc., No. 15-736 (appellate jurisdiction over patents that were dropped from case pre-trial)
Universal Lighting Technologies, Inc., v. Lighting Ballast Control LLC, No. 15-893 (intrinsic vs extrinsic evidence for claim construction).
STC, Inc. v. Global Traffic Technologies, No. 15-592 (Whether marking the packaging of a patented article with patent notification satisfies the marking provision of 35 U.S.C. § 287(a) where the patented article itself is undisputedly capable of being marked.)
Achates Reference Publishing, Inc. v. Apple Inc., et al., No. 15-842 (IPR institution decisions unreviewable, even when addressed in a final written decision by PTAB) [Note – This case was dismissed after being settled by the parties]
Alps South, LLC v. The Ohio Willow Wood Company, No. 15-567
Allvoice Developments US, LLC v. Microsoft Corp., No. 15-538
OIP Technologies, Inc. v. Amazon.com, Inc., No. 15-642
Fivetech Technology Inc. v. Southco, Inc., No. 15-381
Tyco Healthcare Group LP, et al. v. Ethicon Endo-Surgery, Inc., No. 15-115
Nautilus, Inc. v. Biosig Instruments, Inc., No. 15-561
Chunghwa Picture Tubes, Ltd., et al. v. Eidos Display, LLC, et al., No. 15-288
Kenneth Butler, Sr. v. Balkamp Inc., et al., No. 15-273
Arthrex, Inc. v. KFx Medical Corporation, No. 15-291
Arthrex, Inc. v. Smith & Nephew, Inc., et al., No. 15-559 (Commil re-hash – if actions were "not objectively unreasonable" can they constitute inducement?)
Daiichi Sankyo, Inc., et al. v. Apotex Inc., No. 15-281
Mylan Pharmaceuticals Inc. v. Apotex Inc., No. 15-307
Luv N' Care, Ltd. v. Munchkin, Inc., No. 15-242
Automated Merchandising Systems, Inc. v. Michelle K. Lee, Director, United States Patent and Trademark Office, No. 15-326
I/P Engine, Inc. v. AOL Inc., et al., No. 14-1358
Interval Licensing LLC v. AOL Inc., et al., No. 14-1362
Content Extraction and Transmission LLC v. Wells Fargo Bank, National Association, et al., No. 14-1473
L. Gore & Associates, Inc. v. Bard Peripheral Vascular, Inc., et al., No. 15-41
NetAirus Technologies, LLC v. Apple Inc., No. 14-1353
Muffin Faye Anderson v. Kimberly-Clark Corporation, No. 14-10337
MobileMedia Ideas LLC v. Apple Inc., No. 15-206
SpeedTrack, Inc. v. Office Depot, Inc. et al., No. 15-461 (Kessler doctrine)
Rodney K. Morgan, et al. v. Global Traffic Technologies LLC, No. 15-602
Lakshmi Arunachalam v. JPMorgan Chase & Co., No. 15-691
5. Prior versions of this report: