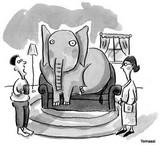 eBay v. MercExchange is such a short decision, but we are having an exciting time unwrapping the tidy package. Look at the following quote from the decision involving the question of "working" the invention.
[S]ome patent holders, such as university researchers or self-made inventors, might reasonably prefer to license their patents, rather than undertake efforts to secure the financing necessary to bring their works to market themselves. Such patent holders may be able to satisfy the traditional four-factor test, and we see no basis for categorically denying them the opportunity to do so.
This quote invokes division of labor ideals. Certain entities simply don't have the ways, means, or inclination to manufacture, market, and/or sell their inventions. For those entities, the Supreme Court says that there is no requirement to work the invention. But what about other entities — those with they ways, means, and inclination to work similar inventions? Doesn't the Supreme Court's unanimous opinion imply that there is a basis for denying injunctions to large manufacturers who do not actually practice the inventions in the patents that they assert?
More notes on the eBay case: