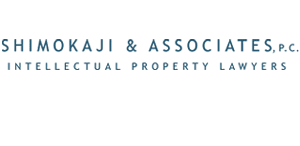 Shimokaji & Associates, P.C., an intellectual property law firm in Irvine, California, seeks attorney for Business Development and Patent Prosecution position. Position can be business development only or a combination of business development and case work. This position will be responsible for developing new business in litigation and patent prosecution areas by establishing, maintaining and growing relationships with key decision-makers at medium to large size corporations.
Qualified candidate must have experience in patent prosecution with a technology background (minimum 10 years preferred). Experience as corporate counsel a plus. Ideal candidate must possess excellent communication skills and be professional, charismatic, and self-motivated. Prior business development experience preferred.
Position requires the ability to prospect via phone, email or other medium, face-to-face sales calls, interaction with clients and potential clients at networking events, and the ability to work independently and as a team player.
Business development position (without case work) will pay a temporary salary and then convert to a commission only pay structure after a specified time.
Contact:
Interested applicants should please send cover letter and resume to sbowen@shimokaji.com.
Additional Info:
Employer Type: Law Firm
Job Location: Irvine, California