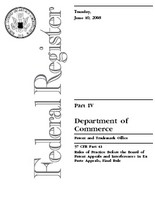 The PTO has announced implementation of "final rules" that govern the procedure of ex parte appeals before the PTO's Board of Patent Appeals and Interferences (BPAI). A year ago, I commented on the rise of of "technical rejections" of appeal filings. Most of these involved issues such as failing to list non-appealed claims; failing to include an appendix page (even if you have no appendix); and the use of a section headings that varied (in form but not substance) from the required heading. In my 2007 sample of 720 appeals, I found that a full 25% had been rejected as 'defective' based on these formalities. [Link]
With this large number of defective briefs in mind, the BPAI developed the new rules:
A major objective of the amended rules is to avoid unnecessary returns to examiners by the Appeals Center and the Board, along with the resulting delays in application and appeal pendency. The requirements of the amended rules are believed to be more objective and, therefore, both appellants and examiners will have a better understanding of what is required, thereby minimizing, if not eliminating, a need to hold appeal briefs defective.
In reality, the new rules appear to significantly increase the number of formalities. This increase in formalities will likely increase the time required to prepare an appeal. The new rules apply to all appeals in which an appeal brief is filed on or after December 10, 2008.
Some changes:
The most substantive change may be the requirement that non-appealable errors must be resolved by petition prior to filing an appeal to the BPAI. "Failure to timely file a petition seeking review of a decision of the examiner related to a non-appealable issue would generally constitute a waiver to have those issues considered."
Instead of filing a summary of the invention, the applicant must file "a claims analysis." This analysis is essentially a claim chart indicating "the page and line or paragraph after each limitation where the limitation is described in the specification as filed."
30 page limit for the Grounds of Rejection, Statement of Facts, and Arguments. (14 point font).
A complete appeal brief will include each of the following (in the correct order):
Statement of the real party in interest,
statement of related cases,
jurisdictional statement,
table of contents,
table of authorities,
[reserved],
status of amendments,
grounds of rejection to be reviewed,
statement of facts,
argument, and
an appendix containing (a) claims section, (b) claim support and drawing analysis section, (c) means or step plus function analysis section, (d) evidence section, and (e) related cases section.
new grounds of rejection are no longer permitted in an examiner's answer,
the examiner's response to a reply brief is eliminated,
petitions to exceed the page limit for an appeal brief, reply brief or request for rehearing are made under Rule 41.3 which requires a $400 fee,
petitions for an extension of time to file a reply brief, request for oral hearing, or request for rehearing are made under Rule 41.3 which requires a $400 fee, and
a list of technical terms or unusual words to be provided to the transcriber at the oral hearing.