I have pulled-together recent appeal statistics from a sample of patent applications published in early 2003. These applications, some of which are now patented, were, for the most part, initially filed in 2001 and 2002. The sample-size is admitedly small, but the results are striking.
Beginning with a sample of just under 10,000 filed patent applications, I found 729 cases where the applicant had filed a notice of appeal. Out of those 720, only 50% (363) ended-up actually filing an appeal brief. That drop-of is not surprising since many prosecuting attorneys use the notice of appeal procedure as a way to "buy time" while deciding whether to file a continuation, appeal, or RCE.
Reopening Prosecution: Two salient numbers pop-out from the cases where the applicant

filed an appeal brief: (1) Of the 363 cases where the applicant filed an appeal brief, 25% (90) were rejected on procedural grounds after the PTO found the appeal brief defective or incomplete. Once the appeal was properly filed, Examiner's filed written answers in less-than-half of the cases. Although not-yet-documented, the presumption here is that in the other 50% of cases, the rejection was withdrawn and prosecution was reopened.
The problem, it seems, is all too often, the appeal is the first time when the parties actually take time to really understand the invention and the prior art. (This goes both for the applicant and the examiner). The PTO has recognized the problem of prosecution being reopened in so many cases. As a result, the Office created the pre-appeal-brief conference.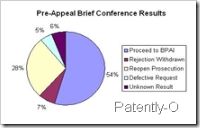 Pre-Appeal Conferences: My sample included 82 requests for pre-appeal brief conferences. In 7% (6) of cases, the applicant won and the rejection withdrawn. In a larger portion of cases, 28% (23), applicant won the day, but prosecution was reopened. In 55% (45) of cases, the PTO thought its position was strong-enough to proceed to the BPAI. 5% (4) were defective and the remaining 6% (5) are unknown (presumably still in process).
BPAI Outcomes: General BPAI decision statistics are available here. In my sample of 56 decisions, the outcomes were virtually evenly-split. 46% affirmed; 45% reversed; and 9% affirmed-in-part.