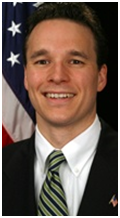 Jon Dudas served as USPTO director for almost five years. He was appointed by President George W. Bush and left office as President Obama entered. The Foley firm today announced that Mr. Dudas has joined the firm as a partner in their DC office. He will work in their international enforcement practice. Anyone who has met Mr. Dudas knows that he will be very successful in his move to private practice. Best of luck!
Notes:
Tech Daily (Andrew Noyes) has more [LINK]

To avoid any confusion the "Foley" firm is Foley & Lardner, not Foley Hoag.