The USPTO has issued a set of interim examination guidelines for determining whether a claim is properly directed to patentable subject matter under 35 U.S.C. ? 101, relevant Supreme Court precedent, and Bilski. The instructions begin with a realization that the area is in flux and that more permanent guidelines will be established once the Supreme Court rules on Bilski v. Kappos. In addition, these are guidelines rather than rules or laws. Thus, an examiner's failure to follow the guidelines is "neither appealable nor petitionable."
Download 101 Memo to Directors | Download 101 Examiner Instructions 8 24 09 | Download FLOWCHARTMORT 8 24 09 | Download FLOWCHARTPROD 8 24 09
The guidelines appear to do a good job of synthesizing the highly confusing area of law into a straightforward algorithm. The problem is that next spring the Supreme Court is almost sure to reject the Federal Circuit's Machine-or-Transformation test. At that point, all of the examiner time and applicant money focusing on this "threshold issue" will have been wasted. I understand that the business of the PTO must continue even in the face of potential policy shifts. However, I would have suggested that examination of Section 101 eligibility be put on a back-burner - especially in light of the fact that most questionable subject matter cases will also fail the tests of obviousness, enablement, and indefiniteness.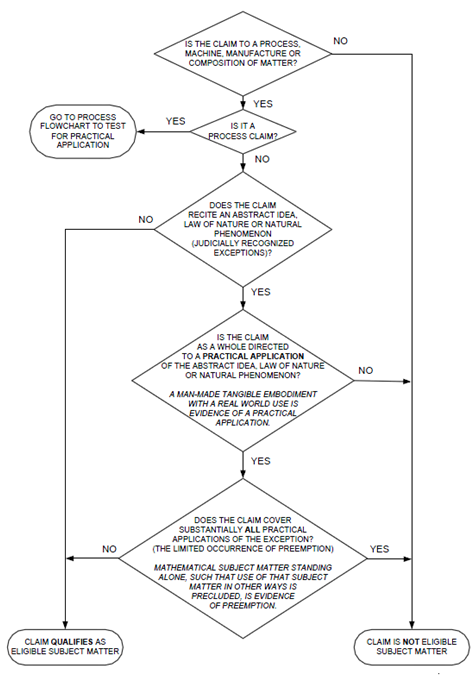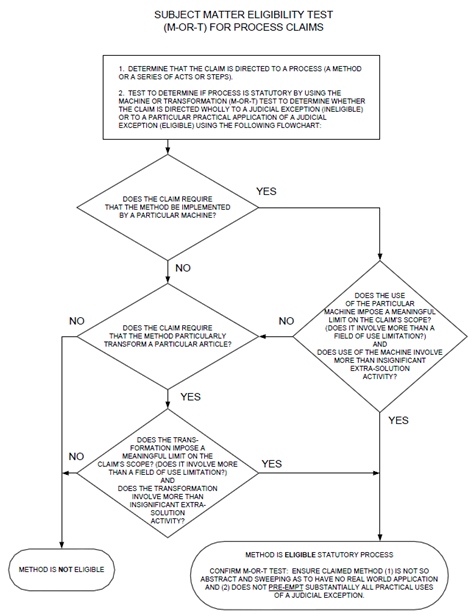 The guidelines bear the signature of Drew Hirshfeld, Acting Deputy Commissioner for Patent Examination Policy. The PTO recently posted a notice looking to permanently fill this extremely important position.