The USPTO has posted a notice acknowledging the Federal Circuit's decision in Wyeth v. Kappos and indicating that the Justice Department will now determine whether to seek an en banc rehearing or petition for certiorari. In the meantime, the PTO will change its PTA calculations to "conform with the Federal Circuit's decision."
On January 7, 2010, the Federal Circuit issued a decision in Wyeth v. Kappos, No. 2009-1120, regarding the calculation of patent term adjustments under 35 U.S.C. 154(b). The Federal Circuit's decision rejects the USPTO's interpretation of the "overlap" limitation in Section 154(b)(2)(A). The Solicitor General will determine whether to seek further review of this decision. Pending that determination, the USPTO is in the process of changing the manner it will calculate patent term adjustments under Section 154(b) to conform with the Federal Circuit's decision.

Applicants and Patent Owners dissatisfied with a patent term adjustment determination by the agency are reminded of the requirement to seek review of that determination within 180 days of patent issuance and the time periods set in the implementing regulations. See 35 USC 154(b)(4) and 37 CFR 1.705.
Although not 100% clear, the statute appears to put the duty of calculating the the patent term adjustment exclusively in the hands of the USPTO. Thus, anyone claiming additional patent term under 154(b) may only do so based on a PTA "determination made by the Director." That theory is bolstered by the statutory limitation of 180–days for filing a civil action based on dissatisfaction with the PTA determination.
Action Item: Anyone whose patent is about to issue or whose patent has issued in the last 180–days should quickly determine whether additional patent term is due. It is unlikely that the PTO will go-back and recalculate PTA for those cases. The PTO may also be willing to re-calculate the PTA for patents issued more than 180 days ago. There is also the potential that a court would disregard the 180–day limitation in this instance based on a doctrine such as equitable tollling.
Statistics: In a prior study, I found that over 75% of recently issued patents were awarded some patent term adjustment due to delays during the patent prosecution process. The Wyeth decision should not change the number of PTA eligible patents, but instead will tend to increase the PTA calculation value. For the period June-2008 to June-2009, I found that the average PTA calculation ranged from 9 to 12 months depending on whether the patent was examined by a primary examiner or assistant examiner respectively. [Link]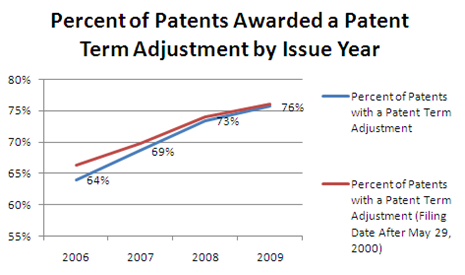 See also: PTA Strategies Presentation by Polk, Brinkerhoff, & Wegner; Don Zuhn at Patent Docs; Eric Guttag's post on IPWatchdog; Sheri Qualters at NLJ;