Newly minted patent examiners play the role of "assistant examiners" at the US patent office. The work of assistant examiners is reviewed by primary examiners, and both are reviewed by supervisory patent examiners as well as quality control specialists.
Of the roughly 160,000 utility patents issued in the past year (June 29,2008 – June 29, 2009), about 37% were examined by an assistant examiner with the remaining 63% handled by primary examiners working alone. This proportion varies according to Technology Center.
Technology Center

Patents Issued
6/29/2008 – 6/29/2009

Percent Handled by
Assistant Examiners

1600

Biotechnology and Organic Chemistry

11,667

38%

1700

Chemical and Materials Engineering

16,857

28%

2100

Computer Architecture, Software, and Information Security

16,217

47%

2400

Networking, Mulitplexing, Cable, and Security

3,370

55%

2600

Communications

23,758

42%

2800

Semiconductors, Electrical and Optical Systems and Components

50,812

36%

3600

Transportation, Construction, Electronic Commerce, Agriculture,

18,098

34%

3700

Mechanical Engineering, Manufacturing, Products

18,018

30%

4100

Training Academy

372

98%
For applicants who appreciate delay, patents that were handled by assistant examiners are more likely to be eligible for patent term adjustment due to patent office delay. (This results hold true for each technology center). 80% of patents handled by assistant examiners were awarded some PTA while only 72% of those handled solely by a primary examiner. This translates to an expected PTA of 12 months versus 9 months respectively.
Only applications filed after May 29, 2000 are eligible for a patent term adjustment. More than 99.5% of patents issued thus far in 2009 have a PTA qualifying filing date. Over the past four years, the percent of patents with some patent term adjustment has been steadily rising over time.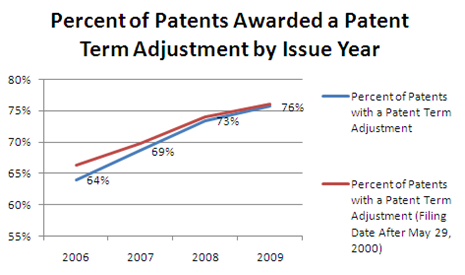 Notes:
"The patent term adjustment (PTA) provisions of the American Inventors Protection Act of 1999 (AIPA) allow for term adjustment: (1) if the USPTO fails to initially act on an application within fourteen months of its filing date; (2) if the USPTO fails to respond to a reply or appeal by applicant within four months of the reply or appeal; (3) if the USPTO fails to act on an application within four months of a Board of Patent Appeals and Interferences (BPAI) or court decision in an application containing allowable claims; (4) if the USPTO fails to issue a patent within four months of the date the issue fee was paid; (5) if the USPTO fails to issue a patent within three years of its filing date; (6) if issue of a patent was delayed due to imposition of a secrecy order; (7) if issue of a patent was delayed due to an interference proceeding; or (8) if the issue of a patent was delayed due to successful appellate review. This PTA smorgasbord requires the USPTO and applicants to monitor numerous events during the prosecution of the application to determine the appropriate term adjustment, and often results in applicants obtaining patent term adjustment despite the fact that the patent has an unadjusted term of longer than seventeen years from grant.
The purpose of the patent term adjustment provision in the AIPA was to guarantee that diligent applicants would still have a patent term of at least seventeen years from grant under the twenty-year patent term system. If the USPTO issues the application within three years from its filing date, any patent term adjustment operates to overcompensate the patentee. PTA should be limited to the situations in which the USPTO delayed processing or examination of the patent and this delay resulted in the application pending before the USPTO for more than three years." Via USPTO