Over 1.2 million non-provisional patent applications are pending examination at the USPTO. Of those, more than 700,000 have not received even a preliminary examination.  The backlog is the source of a tremendous amount of bad publicity for the USPTO.  At a recent PPAC meeting, former USPTO Deputy Director Stephen Pinkos asked an important question regarding the backlog.  Namely, Mr. Pinkos asked USPTO officials to identify the portion of the backlog that can be attributed to patent applicant delays rather than to the USPTO.
The Study: To answer Mr. Pinkos question, I looked at the Patent Term Adjustment (PTA) History for 1,860 randomly selected patents issued April-July 2010.  Ordinarily, a patent's enforceable term is 20–years from its application filing-date.  However, an adjustment is provided when the USPTO delays in issuing a patent.  However, the PTA is reduced by patent applicant delays that go beyond the ordinary two and three month deadlines for responding to USPTO requests.  To be clear, the applicant-delay offset does not account for all applicant delay, but rather only delays that show a failure "to engage in reasonable efforts to conclude prosecution."  Thus, for this study, I term the calculated applicant delay offset as the "unreasonable applicant delay."
Results: The 1,860 patents in my sample had an average application pendency of 46.1 months. The average unreasonable applicant delay was only 1.9 months per patent (+/– 0.2 months).  This applicant delay represents 4.2% of the pendency time for all of the patents. As the cumulative frequency chart (below) shows, a large percentage of the patents (43%) had no unreasonable applicant delay and the median unreasonable applicant delay was only 11 days.  Many of the longest delays were associated with revival of abandoned applications and late submission of information disclosure statements.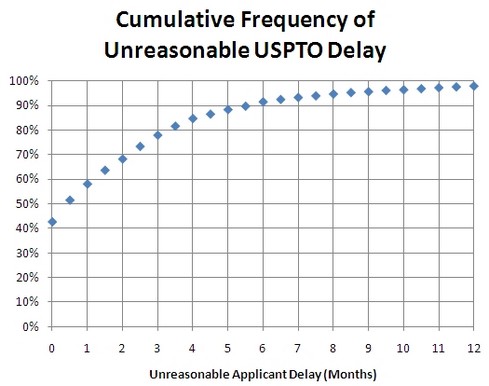 The PTA history also provides a mechanism for calculating the USPTO's responsibility for the backlog. Based on those figures average unreasonable USPTO delay is 17.5 months per patent.  That "unreasonable" USPTO delay represents about 38% of the total pendency. 
Notes:
This post was updated with data from a larger sample of patents.