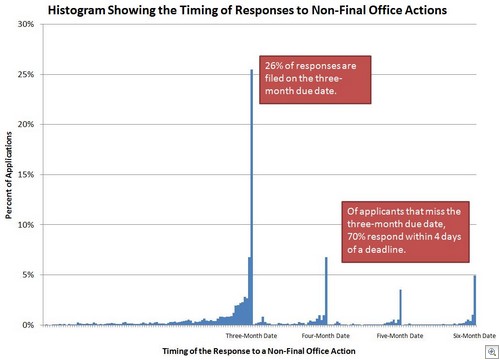 I took a sample of 6,600 published patent applications whose prosecution files each included an initial non-final office action rejection and a response to that action that was submitted sometime between January 1, 2008 – June 10, 2010.  Based on the dates of the office action and response, I created the histogram shown above. (Note, the histogram is corrected for due-date shifts caused by weekends and holidays).  The data is an improvement on what I presented in 2008. [Link]
As the chart show, patent applicant responses are extremely deadline driven. A typical non-final office action allows three-months to respond, but that deadline can be extended for up to three more months (for a fee).  The current extension fees are $130, $490, and $1,100 for one, two, and three month extensions respectively. That fee is cut in half for qualified "small entities."  About 2/3 of applicants respond within the original three-month deadline. An additional legal reason to meet the original three-month deadline is that it preserves potential patent term adjustment (PTA) created by patent office delays. PTA is reduced by one-day for each day of applicant delay beyond the three month date.
Hitting the Deadline: More than 26% of the responses were filed on the exact day of the three month deadline. For applicants that missed that date, 70% filed their responses within four-days of a deadline.
Compact Prosecution: One problem with long delays is that information regarding the invention, the business needs, and the prior art, and the attorney-examiner relationship all become stale in the course of three months.  Although this staleness is difficult to quantify, I did look at patent grant rate as a function of the timing of responses. In my study, I found a clear and significant negative correlation between grant rate and delay in responding to the non-final office action.  I.e., longer delays are associated with a lower grant rate. (Here, grant rate is calculated as the number of patents issued divided by sum of the number of patents issued and applications abandoned).  The chart below groups applications according to the earliest deadline met in their first OA response and reports the grant rate for each group.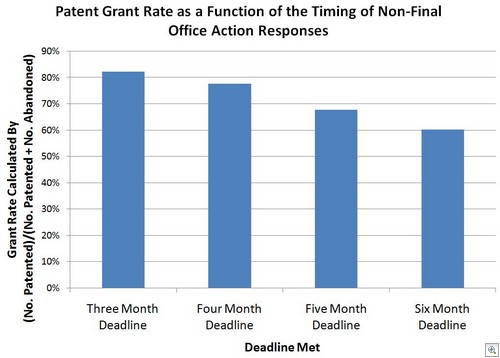 Satisfied With Delay: A delay in applicant response more-likely-than-not will delay the eventual issuance of the patent.  These figures show that most applicants are not troubled by that delay. On that note, I found that applicants that claim priority to a provisional application tend to have longer delays in responding to office actions. That is not surprising since the filing of the provisional already indicates that the applicant is comfortable with delay.  As might be expected, applications relating to Biotechnology and Organic Chemistry (TC 1600) tend to have a longer delay as well.