Emergent BioSolutions is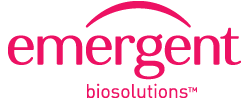 seeking an Associate IP Counsel/IP Manager. This position reports to Senior IP Counsel overseeing IP matters for therapeutics programs in the company's BioScience Division. The principal responsibility of the Associate IP Counsel is to manage preparation and prosecution of patent portfolios covering biotherapeutic product candidates in the company's pipeline. Must be capable of interacting with company scientific staff, program management, and business professionals in the alliance management and business development functions. Must also be capable of professionally representing the company's IP interests in interactions with current and prospective business partners. IP due diligence and freedom-to-operate responsibilities include computer-assisted search and investigation of third party patent rights, scientific publications, and biological sequences for purposes of risk identification. The incumbent will be required to travel regularly to other company sites in the U.S. in order to interact directly with scientific staff.
Requirements:
J.D. from accredited law school, with B.S. or higher degree in a life science discipline.
Must have been registered to practice before the U.S. Patent and Trademark Office for at least 5 years.
Experienced patent agents will also be considered (in which case job title will be revised to IP Manager).
0-3 years experience as a member of the bar, plus 3-5 years experience as a patent agent handling IP issues in a biopharmaceutical setting, with primary concentration in patent drafting and prosecution.
Due diligence experience a plus.
Must have strong communication skills and academic credentials.
Experience with an established law firm, university tech transfer office, or in-house legal department required.
Patent and biomedical database search skills required.
Contact:
Apply online through our website, http://www.emergentbiosolutions.com.
Additional Info:
Job Location: Rockville, Maryland
Employer Type: Small Corporation