Saliwanchik, Lloyd & Eisenschenk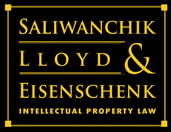 seeks a highly qualified individual to prepare, draft, and prosecute patent applications relating to semiconductors, circuits, computer architecture and/or software. This individual will also counsel clients and prepare opinions. Individual should have Bachelor's degree or higher in Electrical Engineering, Computer Engineering, or related field.
Contact
Apply by emailing the firm at: HR@slepatents.com.
Additional Info
Employer Type: Law Firm
Job Location: Gainesville, Florida