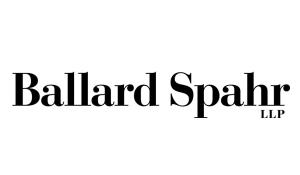 The Philadelphia and Atlanta offices of Ballard Spahr's national Intellectual Property Litigation practice seek an IP litigation lawyer with two to four years of experience in patent and other complex IP litigation. The candidate will join teams involved in cutting-edge patent infringement cases (as well as trademark, copyright, trade secret, and licensing litigation) in district courts around the country, as well as in post-grant review proceedings before the Patent Trial and Appeal Board. Our work is varied and high stakes, and we represent some of the world's leading life science companies, software developers, retail brands, and universities in their most complex patent and other IP cases. We work as a team, where responsibility and experience is shared, allowing for regular on-your-feet experience for associates. We also provide regular training on substantive IP law, litigation skills, and business development.
We require top academic credentials, excellent litigation experience, a desire to compete and win, and clear and persuasive oral and written communication skills, to help persuade judges and juries, and to help advise our clients. We are particularly interested in former judicial clerks, but this experience is not required. A technical background is welcome, but not required.
Ballard Spahr LLP is committed to ensuring diversity in its workplace, and candidates from diverse backgrounds are strongly encouraged to apply.
Contact
To apply, please visit this website: http://www.ballardspahr.com/en/careers/attorneys.aspx.
Additional Info
Employer Type: Law Firm
Job Location: Philadelphia, Pennsylvania or Atlanta, Georgia