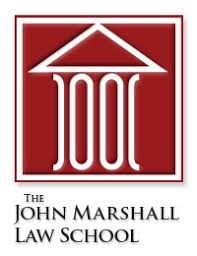 The John Marshall Law School in Chicago seeks a faculty member to serve as Director of the law school's Intellectual Property Clinic. The clinic provides pro bono services to individuals or qualified groups in the areas of Patents and Trademarks, and is part of the law school's Community Legal Clinics. The candidate will also teach related courses as arranged with the academic deans. This is a tenure-line position, at the rank of Assistant Professor or higher.
We seek an individual who is, or demonstrates the potential to be, an exceptional teacher, clinician, and scholar, and to work with entrepreneurs and emerging technologies. Required qualifications include a J.D. from an ABA-approved law school or foreign equivalent; evidence that the candidate is a member in good standing of the bar of a court of the United States, or of the highest court of a state of the United States; and registration to practice in patent (and preferably also trademark) matters before the USPTO. Illinois bar membership (or eligibility for it) is preferred but not required.
The law school's current intellectual property clinics in Patents and Trademarks are certified law school clinics under the rules of the U.S. Patent and Trademark Office. To meet certification requirements, the candidate must:
- For patents, be a registered patent attorney or patent agent in good standing with the OED of the USPTO and have three years of experience in prosecuting patent applications before the USPTO within the last five years;
- For trademarks, be a licensed attorney with at least three years of experience in prosecuting trademark applications before the USPTO within the last five years.
It is anticipated that the successful candidate will teach at least one course per academic year outside the clinic, based on background and interest. The candidate is expected to possess excellent research, writing, and communication skills.
JMLS is committed to diversity, access, and opportunity. Subject to the approval of our accreditors, JMLS is in the process of being acquired by the University of Illinois at Chicago, with an anticipated closing date in August 2019. For more information, visit www.jmls.edu and jmls.uic.edu. The successful candidate should be available to start no later than July 16, 2019.
Reports to: Associate Dean for Experiential Education
Other information: This is an 11- or 12-month appointment.
The John Marshall Law School, finding any invidious discrimination inconsistent with the mission of free academic inquiry, does not discriminate in admission, services, or employment on the basis of race, color, sex, religion, national origin, ancestry, age, disability, veteran status, marital status, sexual orientation, gender identity, gender expression, genetic characteristics, or any other characteristic protected by applicable law.
Contact
Submit a current CV and cover letter indicating compliance with the relevant USPTO requirements above to Professor Art Acevedo, Chair, Selection and Appointments Committee, at 7Acevedo@jmls.edu. The Committee will begin reviewing applications on a rolling basis in January and will conduct initial screening interviews via Skype or a similar platform. Individuals invited to interview for the position should be prepared to submit teaching evaluations, professional references, copies of or links to published scholarship, and, where applicable, copies of promotion and tenure reports from current or past law schools.
Additional Info
Employer Type: Education
Job Location: Chicago, Illinois