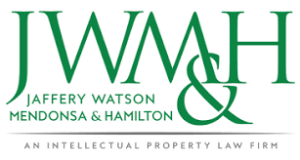 Jaffery Watson Mendonsa & Hamilton (JWMH) is seeking a Senior Patent Attorney with a minimum of four years of experience in patent prosecution. Candidates throughout the US will be considered, with a preference for candidates located in Northern California who are interested in working remotely while also being available for occasional travel to Silicon Valley for client meetings. The ideal candidate would have an understanding of semiconductor process technology and software applications.
JMWH is a boutique patent law firm with a hybrid virtual and office-light approach for servicing our clients that provides maximum flexibility for our attorneys and staff to work remotely. Our highly competitive compensation model and flexible platform are ideal for motivated attorneys looking to grow their book of business while having access to several institutional firm clients in the Forbes 100 and exciting startups near our office locations in Silicon Valley and technology hubs surrounding Denver CO, and Portland OR.
ACADEMIC AND PROFESSIONAL QUALIFICATIONS:
J.D. degree; admitted to a state bar and in good standing
Registered and in good standing to practice before the USPTO
Bachelor's or Master's degree in Electrical Engineering, Computer Engineering, or Materials Science & Engineering
KNOWLEDGE, SKILLS & EXPERIENCE:
 Minimum of four years of experience
 Proficiency with patent portfolio management and strategy, and can work independently
 Understanding of semiconductor process technology and software applications is highly desirable
CONTACT:
Apply via email at: jacob.aikin@jwmhlaw.com
please send cover letter and resume.
Additional Info
Employer Type: Law Firm
Job Location: remote